Dealing With Difficulties: A Study of Hebrews 12:1-17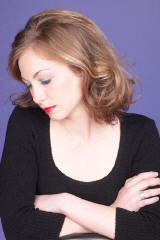 After mentioning a long list of heroes who were faithful in difficult times, the author of Hebrews now addresses the readers directly, encouraging them to follow the example of the faithful. They should acknowledge the hardships they encounter — even be encouraged by them — and complete the journey they have begun.
Finish the race
In Hebrews, doctrinal information is often the springboard for practical application. After each section of information comes a brief section of exhortation, often with the words "therefore, let us…." Chapter 12 begins with Therefore, since we are surrounded by such a great cloud of witnesses, let us throw off everything that hinders and the sin that so easily entangles.
What kind of witnesses surround us? Perhaps they are spectators in a stadium, watching us run the race — but since the author hasn't used the metaphor of a footrace yet, the readers probably would not think of "witness" in that sense. Rather, the witnesses are people who can testify that it is possible to be faithful in the face of temptations, even in persecutions.
Examples of success surround us, so we should get rid of anything that distracts us, anything that slows us down — especially sin. Sin is like an octopus that grabs us first with one tentacle, then another, and another, until we are trapped. Sin makes it harder for us to follow Christ, or to trust in him for our salvation. So, to be faithful, we need to put aside sin or any other hindrance.
And let us run with perseverance the race marked out for us, fixing our eyes on Jesus, the author and perfecter of our faith (vv. 1-2). Here, the Christian life is compared to a race, perhaps a marathon, in which finishing the race is more important than coming in first. How can we finish? By keeping our eyes on the goal: Jesus. He is not only the one who calls us to faith in the beginning, he is also the one who will complete his work within us.
What kind of example did he set for us? For the joy set before him he endured the cross, scorning its shame, and sat down at the right hand of the throne of God (v. 2). Jesus kept his eyes on the goal — the joy set before him. Our salvation is the joy that motivated Jesus to endure the pain and shame of the cross. The cross shows us how much Jesus wants us to join him in his joy, to join him in his position of honor and authority next to God. And this sets an example that can help us endure our difficulties.
Consider him who endured such opposition from sinners, so that you will not grow weary and lose heart (v. 3). If we think about what he did, we will be encouraged to put up with the inconveniences that Christianity may bring us. As we focus on him, he will strengthen the faith within us.
As the author observes, the readers had not experienced what Jesus did: In your struggle against sin, you have not yet resisted to the point of shedding your blood (v. 4). We should be willing to give our lives, because the life we have gained is far more than anything we might give up.
Children and discipline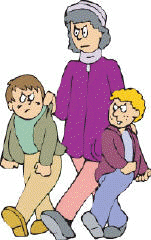 The author then quotes Prov. 3:11-12 to give the readers a better way to view their problems: Have you completely forgotten this word of encouragement that addresses you as a father addresses his son? It says, "My son, do not make light of the Lord's discipline, and do not lose heart when he rebukes you, because the Lord disciplines the one he loves, and he chastens everyone he accepts as his son." Endure hardship as discipline; God is treating you as his children (Heb. 12:5-7).
This does not mean that every problem we face has been specifically caused by God, or that it is a punishment for something we did wrong. But problems can be turned for good in our lives if we look at them as athletic training that can help us be stronger and more faithful.
In the Christian life, difficulties are to be expected: For what children are not disciplined by their parents? If you are not disciplined — and everyone undergoes discipline — then you are not true sons and daughters at all (vv. 7-8). In Greek society, wealthy men often had mistresses, and they often had illegitimate children. They sent their legal children to school and trained them, but they often ignored their illegitimate children.
Moreover, we have all had human fathers who disciplined us and we respected them for it. How much more should we submit to the Father of spirits and live! They disciplined us for a little while as they thought best; but God disciplines us for our good, in order that we may share in his holiness (vv. 9-10).
He is speaking in general terms here, not commenting on parents who are too strict or abusive. Human discipline has temporary benefits, but divine discipline has eternal benefits, so we should be even more willing to endure it.
This is not always easy, but we will fare better if we are mentally prepared for it. No discipline seems pleasant at the time, but painful. Later on, however, it produces a harvest of righteousness and peace for those who have been trained by it (v. 11). We may not see those results right away — especially peace — but we will enjoy the results if we endure the difficulties.
Therefore, since discipline has good results in our lives, strengthen your feeble arms and weak knees. "Make level paths for your feet,' so that the lame may not be disabled, but rather healed" (vv. 12-13, quoting Prov. 4:26). Don't let the problems cause you to drop out of the race. Run straight toward the goal, even though it's hard.
Don't be like Esau
Perhaps you know of someone who'd like to hear about this article. If so, go to the bottom of the page and click on "Email this page." Fill out the form, and share the good news! There's also a way to share the page on Facebook, Twitter, Buzz, and other websites.

All scripture quotations, unless otherwise indicated, are taken from the Holy Bible, New International Version®, NIV®. Copyright ©1973, 1978, 1984, 2010 by Biblica, Inc.™ Used by permission of Zondervan. All rights reserved worldwide. www.zondervan.com

Other popular articles

This article was written by Michael Morrison in 2006 and updated in 2011.
The author now shifts gears and makes a general exhortation: Make every effort to live in peace with everyone — don't seek persecution — and to be holy; without holiness no one will see the Lord (v. 14). Since Jesus makes us holy by his death (10:10, 14), we need to trust in him for the status we need to see God.
But there is a danger: See to it that no one falls short of the grace of God and that no bitter root grows up to cause trouble and defile many (v. 15). How might people fall short of God's grace? The "bitter root" probably refers to Deut. 29:18, which describes someone who turns away from God. If we turn away from Christ, we will not receive his benefits.
See that no one is sexually immoral, or is godless like Esau, who for a single meal sold his inheritance rights as the oldest son. Afterward, as you know, when he wanted to inherit this blessing, he was rejected. Even though he sought the blessing with tears, he could not change what he had done (vv. 16-17).
Esau is an example to avoid: He gave up a long-term blessing for a short-term benefit. This is the choice the readers were facing, too: Would they give up eternal life with Christ for a little convenience in this world? If you do this, the author says, the time will come when the penalty will be irreversible. Esau repented in one sense — he decided he wanted the blessing — but it was too late, because it was part of the inheritance he had already sold.
Do not sell out the faith, the author says. Stand firm, and be faithful — and we do that by fixing our eyes on Jesus.
Questions for discussion
What kind of sin tends to entangle people today? (v. 1) What pulls them away from faith in Christ?
What joys are set before us? (v. 2)
Do people now have different attitudes about parental discipline? (v. 9) How does this affect our attitude toward difficulties we may face?
In what way were the Old Testament heroes waiting for us? (v. 40)
Related Articles & Content:
Other articles about this topic:
Other articles by:
Other articles about this part of the Bible: