I never had any aspiration to write, or to raise pumpkins, but here I am doing both!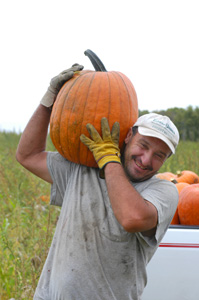 Twenty years ago, I was struggling to survive on the Minnesota farm where I was born and raised. Family farms as I knew them were changing rapidly. But I had been a farmer all my life and I didn't particularly want to quit and do something else. So I asked God that if it was his will, would he give me something right here in Minnesota to make a living and to serve him.
At this time I was struggling internally as well. That journey led me to the Worldwide Church of God on June 17, 1995.
I started a business raising and selling hay with the slogan, "Hay by George!" Then an idea started to form. If I would cut some corn stalks and put them into bundles, I thought people would buy them for fall decorating. So I purchased an old corn binder, a machine that was used in the early 1900s for cutting and tying corn into bundles. I figured that if my idea was a hit, I would somehow have to mass produce the bundles, and this antiquated machine was the only way I had to do it.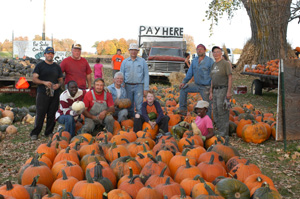 I sold nine corn bundles that first year for the sum of $45. After a couple of years, I added straw bales to the corn bundles and I found out that by taking them to the end of my driveway on an old truck, my sales were much better!
One day, by chance, I was in town at a lumberyard when I ran into an old friend, Tony Foty. In the course of our conversation I found out that Tony was raising pumpkins. I told Tony that I might be in touch with him the next fall, because I thought pumpkins would go well with the straw and corn stalks. 
When I called Tony the next fall, all he had left were 41 pumpkins. I brought them for $1 apiece and sold them for $2 apiece! In two days they were all gone!
Tony and I kept in touch after that, and by springtime Tony told me that his partner in the pumpkin business was dropping him. I told Tony that I had this whole farm that I thought would probably grow pumpkins, and if he didn't mind me being his partner, I wouldn't mind trying to raise pumpkins. In 2000 we grew four acres of pumpkins.
As we worked together that first year, I was able to share my faith with Tony. He saw firsthand how Jesus Christ had changed my life, and asked if I would baptize him. After talking to my pastor about it, I baptized my friend Tony on July 4, 2000.
The acreage I planted to pumpkins grew steadily from four acres the first year to the 60 acres I plant today. That's enough; 60 acres of pumpkins are a lot of work and I am no spring chicken anymore!
From the beginning of the pumpkin business, I chose to sell on the honor system. People pick their pumpkins and then put the payment into a payment box. Nobody is watching them to make sure they pay or that they pay full price. My customers are simply on their honor. Most people can't believe that I run the business that I do through the honor system, but as this year comes to a close, it looks to be my best year yet!
For me, the highlight of all this pumpkin raising is the people—those who have worked with me over the years and those I've met through the business. My friend and pastor, Doug Johannsen, told me, "George, you sure spread a lot of joy with these pumpkins." Since that time I tell everyone who works on the farm that they are involved in the ministry of joy! So I guess spreading joy is my ministry, or better put, God's ministry that he blessed me to lead!
The pumpkin thing
A highlight of each year is a fundraiser for our Grace Communion International district-sponsored winter camp, called "SnowBlast." I call our fundraiser "the pumpkin thing." The pumpkin thing is in its sixth year now and has grown to the point where we have to hold it over two separate weekends.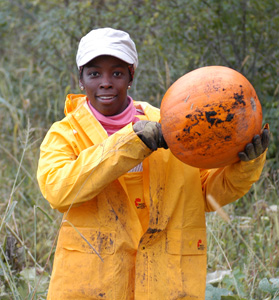 Some people drive as many as six hours to be there. We were able to raise $2500 for SnowBlast this year. It is more than just picking pumpkins. It's fellowship, too, and I think that is the most important part. I have come to realize that God is using this pumpkin business for greater things than what can be seen. Like a spreading pumpkin vine, you never really know where it's all going to end up!
Every year something interesting ends up in the pay boxes. Just the other night I got this note in the pay box at my Eagle Lake site. I assume it's from a young mother. She wrote:
"I am truly sorry I do not have the money to pay for two pumpkins. I have two little girls that want one, and they have had a very hard life. I just want to see a smile on their faces, and if a pumpkin can do that I will pay in any way that I can in the future. I am sorry I do not have the money to pay for them. I am not a thief. I would not normally do this, because if I had the money I would pay."
That was probably the most touching letter I have ever received in the boxes. I'm glad she took the pumpkins. I always have said if people were in need I hope they just help themselves! I also prayed for her, that God would bless her and the two girls.
It's because of letters like that one, letters expressing simple gratitude for a big orange pumpkin or two, that keeps me doing all of this. That and the joy of seeing the smiles on faces, young and old, and seeing all the families, probably numbering into the thousands by now, out among the pumpkins taking pictures, laughing and having a good time together.
I can really see our triune God at work in all of this! And I know that at least for the time being, God has me exactly where he wants me to be. I guess until he moves me somewhere else, this is where I will stay. So to God be the glory!
George Denn has written two books about his adventures with the pumpkins and the youth camps: Hey by George! and Hey by George! II. Published by Xulon Press.