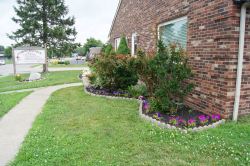 Six years ago, our congregation found a church building that had just been put up for sale. It was the right size at the right price in the right area of Lexington. It seemed that doors had miraculously opened to pave the way to ownership.
Once we had settled in, we set out to survey our newfound neighbors and neighborhood, ready to busy ourselves with whatever God had in mind with our presence in our new community. It did not take us long to realize that in the apartments directly across the street and throughout the rest of the neighborhood, there were several Hispanic families. This, we thought, should be the focus of our community outreach.
However, no one in the congregation was Hispanic or could even speak Spanish well. Undaunted, we decided that we should find a Spanish-speaking pastor willing to come to Lexington. We prayed, and exchanged phone calls and emails, but we came up empty.
It didn't go anywhere.
It just wasn't time.
Some years later, a lady and her three children from the apartments across the street came to our Sunday services. Her name was Carla Matamoro Small. She was from Trinidad and Tobago, and spoke fluent Spanish. She knew several Hispanic families throughout the neighborhood. She saw our church building across the street and had the vision of starting a Spanish-language church service. Renewed with Carla's enthusiasm, we once again prayed, held meetings and exchanged phone calls. But once again it didn't go anywhere.
It still wasn't time.
More years passed by. One day Carla attended a Hispanic event in Lexington and a talented singer performed. She was so impressed with his singing that she invited him to sing later that year at a Christmas event that she helped to organize. Carla asked about his church and learned he attended a Hispanic church in Paris, Kentucky. She also learned his pastor was a church planter. Carla asked to meet with him.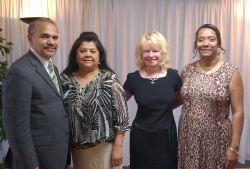 Pastor Emmanuel and Lourdes Romero, Beth Jeffers, and Carla Matamoro Small
At that meeting, Pastor Emmanuel Romero explained to her that he had planted a number of churches in small towns in central Kentucky, but his vision was to plant a congregation in Lexington. So far he had come up empty. Until now.
Carla arranged a meeting between our church and Pastor Romero to see if we could work out a time for them to hold services. In exchange for use of the building, he agreed that his congregation would help with the maintenance and landscaping. Over the years our membership had decreased, and many of those who remained were not able to help as they had in the past. What a blessing for both congregations!
It was time!
"Soldados del Reino" (Soldiers of the Kingdom) opened Sunday afternoon services in our building in March of this year. A new church was planted!
In June, we held a special service to honor our Pastor, Ron Dick, and his wife Linda, who were retiring. The Spanish church planted beautiful flowers and provided some much-needed landscaping for the special day. Pastor Romero sang special music during the service in both English and Spanish.
It has been a joy to work with Pastor Romero and Carla as their enthusiasm and love of God is evident. We have plans for our two congregations to co-sponsor community events this year. Pastor Romero has attended our services twice to thank the congregation for letting his church meet in our building. He has said both times, "God will bless you for your kindness to us!"
Pastor, he already has. We have learned that believers are believers, regardless of denomination. We are all God's children.  
Beth Jeffers, 2011

Related Articles & Content:
Other articles about this topic: