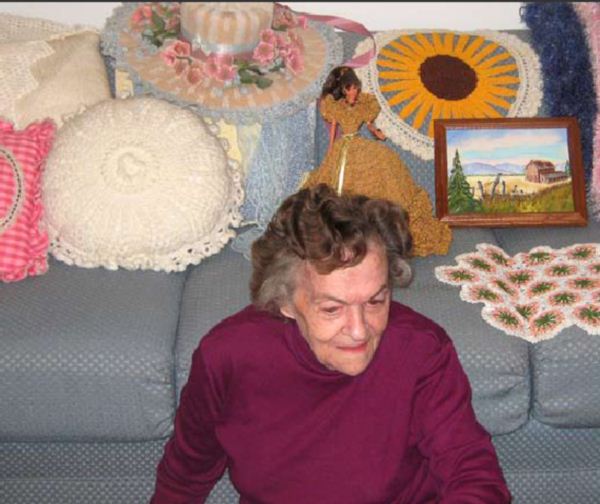 Mickie (Mildred) Akins, my Mom, is an inspiration to everyone who has the good fortune to meet her. At 92 years of age, she still lives alone, drives the four miles into town at least once a day and the 20 miles to the nearest city several times a week. It was only a few years ago that we, her children, had to insist that she no longer drive alone the 500 miles to visit family in Arkansas.
Although she has now slowed down some, and usually walks with a cane to keep her balance, she's spry and healthy and happy, and totally devoted to God. And she is quick to point out that, although she has sufficient income, she is still able to work a little at home to earn extra income.
 She married my father, Garvis Akins, at 18 years of age and was totally happy as a wife and mother. From our earliest childhood she and Daddy taught the five of us children to love God. They didn't "preach" to us, but taught us by example and in our general conversation: "…when you sit in your house, and when you walk by the way, and when you lie down, and when you rise up…" as the scripture instructs in Deuteronomy 6, verse 7. They taught love for God as a way of life; not as demanded by God, but as our offering freely given to God. I don't remember a time when I didn't know and love Jesus. And we always had unconditional love.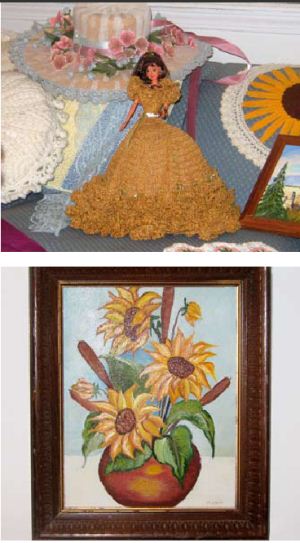 I've never had to think much about unconditional love because I've always had it. That's just how it was. "We may not always like what you do, but we ALWAYS love you—no matter what." We weren't shackled with guilt when we did something we shouldn't. Oh, there were consequences for wrong-doing, of course, but afterward we were assured that we were still loved.
Daddy died of cancer in late 1978 and Mom was alone for the first time in her life. She had never worked outside the home and, since they had spent all their savings on his treatment, Daddy was concerned that she would not be taken care of. But what Daddy did not realize is that Mom is a talented crochet and craft designer. She soon went to work right here in our little town for an international crochet pattern publishing company, and worked full time until she was 83 years of age. She is always quick to explain that with God's help, she has provided quite well for herself, and she's anxious to someday be able to tell Daddy just how well she was taken care of—by God.
Mom has never been one to sit idle, but always needs to be accomplishing something. Since she can no longer garden and do yard work, she has set her goal to crochet afghans for every family at church and for each new baby that comes along, as well as wedding gifts and birthday gifts. She also makes winter scarves for everyone, which we proudly wear all winter, and whatever else anyone asks for.
 Mom has become a sort of "fixture" at church. She always sits in the second row because, at less than five feet tall, she's so short that she can't see if someone is in front of her. And she wants to be at church any time there is anything going on. We go to church together at least three times a week—for Sunday morning worship services, Wednesday night Bible study, Thursday morning Seniors' Bible study, and any other time anything is happening there.
 So yes, I'm proud of my Mom. She's such an inspiration to everyone, and she has always set such a pace that we have to "run" to keep up with her, so to speak. Even now at age 92, she is still productive and independent and useful and totally devoted to the Lord. She is truly an amazing woman, and we are all blessed by God to know her.