I really enjoyed reading your articles about holidays. I think they are very informative and definitely prove that it's not a sin to celebrate our Lord during Christmas and Easter. I understood what the writers were trying to say when they pointed out that God can and has taken pagan traditions and customs to use for his glory. But I think this could be said a better way. In several scriptures, God tells his people not to worship him in a pagan way. So the best way to explain worshipping Christ on days such as Christmas and Easter is to understand that those dates never belonged to pagans anyway. God created days, the sun, the moon, fire, water, etc. A specific time period, or day, doesn't belong to a pagan. Just as an egg or a tree doesn't belong to a pagan.
In whatever we (Christians) do, we must make it clear that we aren't doing the same things pagans do and we aren't using God's creation in their way. All in all, one of your writers said that God transformed these pagan things to use for his glory. But in reality, God didn't have to transform. Inventions are man-made. Creation is God-made. So, when pagans use nature, they are stealing from God. I'm typing fast, but I hope I'm making sense. Anyway, other than that, the articles are wonderful and I enjoy your ministry.
AJ, email
Update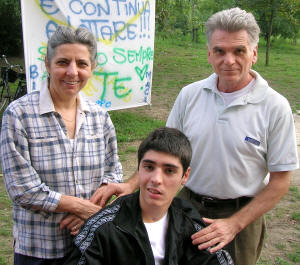 We have been asked if there is any news on Giacomo Tarroni, whose story we featured in the December 2007 Christian Odyssey ("Small Miracles," p. 14). We recently received this update from Giacomo's father, Gianni.
More than two years have passed since the accident of our son, Giacomo, which took place on June 14, 2007. After two years' stay in the hospital for physical and cognitive rehabilitation, he is now back home, facing school. It is very hard for Giacomo to accept that his left arm is completely paralyzed and that he can only take slow steps and needs a walking stick to keep his balance. But, thank God, he is not discouraged or depressed and he keeps on hoping for continuous improvement.
The road is long and often very hard, but our Lord always gives us the strength to continue. He has promised that he will never abandon us and that he will always be with us. Experiencing this day-by-day makes our hearts full of joy.
What happened to our family has not discouraged us, disappointed us or depressed us. Rather, it has given us an incredible joy that goes beyond human understanding and allows us to completely enjoy everything life gives us daily, with simplicity, gratitude and thankfulness for God's love.
Vaccolino, Italy
Oops!
I just received my copy of the September-November 2009 Christian Odyssey, and as I normally do, when a scripture is quoted, I read it in my Bible. I was reading "God's Masterpiece," by Barbara Dahlgren, and the fifth paragraph quoted Psalm 129:14. When I found the 129th Psalm, I found it had only eight verses. The reference should have been Psalm 139:14. It was a very nice article.
AG, Baton Rouge
Who wrote the article on the worst movie ever made in your September/November issue?
AM, email
Our apologies to our readers and to Al Doshna, who wrote the article, "Silk Purses From Sows' Ears," in the September/November issue. Al is a movie historian living in Southern California. His name was accidentally omitted from the printed edition, although it did appear in the Web edition. (Silk Purses From Sows' Ears)
I just wanted to thank you for the wonderful series of interviews that you have put on the Internet. I have been following what has been happening in your church for a while now. I download each new Trinitarian speaker onto my iPod so I can listen daily, and in doing so, my whole life has been turned around. Listening daily to your speakers allows the Holy Spirit to take me bit by bit out of my faulty thinking. I don't know what I would do if I didn't have this wonderful website. I just can't thank you enough.
SH, Sydney, Australia
The video series "You're Included" and "Speaking of Life" can be viewed at https://www.gci.org/media. You can also download the audio of each program.
I just wanted to let you know how greatly I appreciated your article on the "Arian Controversy," and the thorough way in which it was presented. I am writing a research paper and many of my friends (including returned Mormon missionaries) plan to read it.
KH, email