Peoria, Illinois: This midsized midwestern city is considered an ideal test market for the USA. They say that if you want to know if a new idea or product will be successful, find out if it "plays in Peoria." So what two visionary pastors are attempting to do here is worth watching.
Cliff Parks is the pastor of a congregation in Peoria. The members are mainly Anglo-American, and live in the suburbs and surrounding rural towns.
Tony Pierce pastors the Christian Family Center Church, which is affiliated with the Southern Baptist Convention. The congregation is mostly black, and many of the members come from urban neighborhoods within the city.
Under the leadership of Cliff and Tony, these two churches are merging to become one congregation. For black and white congregations of the same denomination to merge is rare. If they come from different denominational backgrounds it would seem almost impossible.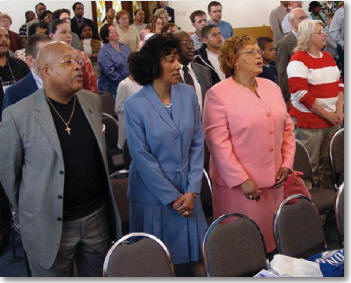 As Martin Luther King once said, 11 am Sunday morning has become the most segregated hour in Christian America, and Peoria is one of the nation's most segregated cities. So if this merger can be made to "play in Peoria," it could have important implications for the future direction of racial reconciliation.
What prompted these two very different congregations to try to become one?
"After our denomination's dramatic transition from legalism to orthodoxy, I knew that our church had to find new ideas if it were to thrive and grow," explains Cliff Parks. "If we did not engage the membership in ministry, the church would eventually die. But we were a commuter church, with our members driving quite long distances to attend. We needed to plant a stake in the ground somewhere and claim a community."
After studying the way Jesus impacted every community he visited with practical ministry, Cliff realized that an effective community church needed to meet some specific needs of the community. "We weren't in a position to do that by ourselves. So we tried to partner with some of the ministries that were already established. In this way we could provide needed willing workers to our ministry partners, and we could get the training we needed."
Across town, Tony Pierce was having similar thoughts. He had come to Peoria 20 years earlier and planted an African-American church. After many years of struggle, that church was now established. But what was to be its mission?
The need
A 2002 TriCounty Commission report showed Peoria to be one of the nation's most segregated cities. There are 19,000 African-Americans among a total population of approximately 115,000. Much of the African-American population lived in areas of extreme poverty. The analysis of Peoria's most segregated urban neighborhoods revealed a high crime rate, deteriorated housing, high unemployment, low family income, low birth weight and low educational achievement.
"The church is not supposed to turn blinded eyes, nor deaf ears, toward these problems," says Tony. "I told the leadership team and congregation that we would need to operate differently if we were to let Jesus use us to transform Peoria's destitute people, within our mission field.
"If we could begin to integrate the church in Peoria, one of our nation's great test markets, there would be genuine hope for the racial future of our nation."
Each week, as part of the worship service, the congregation repeats this pledge together:
I love Jesus more than all. I love Jesus more than class. I love Jesus more than gender. I love Jesus more than race. I love Jesus more than all that would separate me from the love of God. Therefore because Jesus loves and reaches out to all, including me, I will let him love and bring in all through me.
We love Jesus more than all. We love Jesus more than class. We love Jesus more than gender. We love Jesus more than race. We love Jesus more than all that would separate us from the love of God. Therefore because Jesus loves and reaches out to all, including us, we will let him love and bring in all through us.
The two pastors first met at an outreach program of Tony's church called Job's Partnership. It provides training to the chronically unemployed in both secular job skills and Christian core values.
Tony Pierce was one of the instructors. At every opportunity, Cliff would pick his brain, trying to discover how he could engage his own congregation in effective outreach ministry.
"We began our association with Job's Partnership by just being 'prayer warriors,'" says Cliff. "Five or six members of our church would sit in the class while instruction was being given and pray for the students."
As the friendship grew, the two pastors began to explore the possibilities of an even closer relationship.
The challenge that CFCC faced was that their ministries reached out both to African-American and to European- American populations. But the church was primarily African American, and it was rare for white people who came to Christ through their ministries to actually find a church home with CFCC. Cliff's church had the same problem on the other side of the racial divide.
As Tony and Cliff struggled with this phenomenon, a bold solution began to present itself. Why not combine the congregations and become one big church?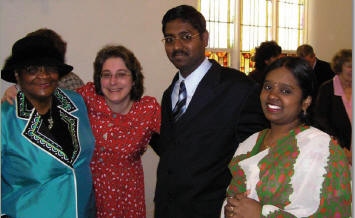 Reaching the goal — a multi-cultural and ethnically diverse, but truly integrated congregation.
"As Tony and I continued to meet and pray about these issues, we began to see that one of the biggest ministry needs in Peoria was for a racially blended congregation," says Cliff.
Combined, they would be double in size, with approximately an equal number of African-Americans and European-Americans attending. There were also a small number of people from other ethnic backgrounds, primarily Indian, African, and Hispanic.
Tony was enthusiastic, but because an experiment of merging with another congregation was ending in failure, he was well aware of the difficulties. "I am grateful to Cliff for the love and courage that he showed when he requested that our two congregations work more closely together with the potential prospect of our leading the two of them to merge," he says.
They agreed to proceed cautiously. There were many things to consider. The racial and cultural differences could not be ignored. Surprisingly, there were not many doctrinal incompatibilities, but the churches did have to discuss worship styles and matters of governance.
During the "courtship," the congregations held four joint worship services over a twelve-month period to test the strength of their growing relationship. They needed to know what the experience of joint worship looked and felt like.
The services were held once a quarter. To begin, each church hosted the other at a typical service. That provided the opportunity for each them to experience the other's worship in the manner that they normally conducted it. The final two joint services were planned together by the combined leadership teams, to see what a merged worship experience would be like.
"We saw that we genuinely liked one another and came to believe that God wanted us to merge," reflects Tony.
In December last year, they took the plunge and began to worship together as one congregation during Christian America's most segregated hour.
Is it working? So far so good.
"We experienced the normal conflict that is needed to test the nature of any relationship," says Tony. But there is a growing commitment to make the merger work.
The new congregation is still working out details, such as the order of services, musical styles, how to do communion, and what to study during Sunday school.
| | |
| --- | --- |
| | |
| "The most segregated hour in Christian America? Not here, it is isn't. | Tony Pierce and Cliff Parks share the worship. |
"We found that concentrating on the details instead of the strengths of the relationship could be counterproductive," explains Tony. "That is especially the case if it seems like those details threaten to weaken the resolve of the intended commitment. Like in a marriage, we generally do not work out all the details before the wedding. We made our chief concern the strength of our commitment to one another. The new identity will emerge the longer we are together."
Both pastors are being careful to respect each other's differences, and also the natural concerns of their denominations. The pastors agreed that the merged congregation would recognize and support the denominational heritage of both their previously separate congregations. They will send reports and at least as much money as either did separately to both denominations.
"We want to create a win-win situation for everybody if we can," says Tony.
By the time you read this, the congregation will have moved to a new permanent location on the grounds of a former parochial school campus. The merged congregations have already spent many hours working together to renovate the buildings. The new facility is ideally located as a center for outreach and teaching.
The institution of a new worship service that reflects the people, culture, and traditions of all members is the most powerful symbol of invitation that any church can provide. Cliff and Tony believe that the new church will attract members of other ethnic groups as well.
The merged congregations have not yet finalized a name for themselves, but they are strongly considering "Heaven's View Community Church."
"'Come see what heaven looks like' is the way we intend to promote the ministry," explains Tony. "That statement captures the essence of what our congregation looks like, as we attempt to mirror the multicultural kingdom of God in heaven."
"The community needs to see that Christians can do more than just talk about being one in Christ," says Cliff. "They need to see that Jesus is able to overcome the things that may divide the secular community. There needs to be a place where people of any race can come to church and see a bit of their culture.
"What we are doing may seem risky, and I don't know what the next two years will bring," Cliff admits. "But I believe that Jesus will take care of us one step at a time. For the first time in my pastoral career I feel that Jesus is using us not just to have an impact on one another within the congregation, but also on the community we worship in.
"I am scared to death and loving every minute of it."