Lifestyle Evangelism,
by Joe Aldrich
Reviewed by Terry Akers
Joe Aldrich, former president of Multnomah Bible College and Biblical Seminary in Portland, Oregon, has helped thousands of Christians become effective witnesses for Christ through his bestselling book and video, Lifestyle Evangelism.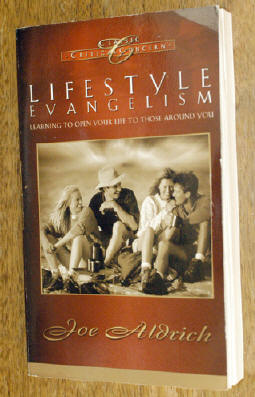 Dr. Aldrich lays out in Lifestyle Evangelism: Learning to Open Your Life to Those Around You effective principles for proclaiming the kingdom of God and sharing one's faith in a world of darkness and confusion. These principles are shown to be life-transforming for the givers and the receivers.
The key to successful evangelism, according to Aldrich, is to be relevant to others. The gospel message must reflect the actual lifestyle of the one proclaiming it, he explains. The only way for believers to make the Light of the world meaningful and personal to seekers is for themselves to maintain an internal, healing relationship with Christ.
Evangelists must be willing to open their own lives to others to offer them the peace and healing they, themselves, have experienced. Like Jesus, they must care for the lost and be free to enter their brokenness with compassion as he does.
"The best argument for Christianity is Christians: their joy, their certainty, their completeness. But the strongest argument against Christianity is also Christians — when they are somber and joyless, when they are self-righteous and smug in complacent consecration, when they are narrow and repressive, then Christianity dies a thousand deaths."
Haddon Robinson of Gordon-Conwell Theological Seminary writes in the Foreword: "If Jesus appeared on earth today as he did two thousand years ago, many churches would not elect him to their official boards. He would have disqualified himself because he ran with the wrong crowd."
Lifestyle Evangelism teaches how Jesus received with joy the down-and-outers of society — those rejected by the mainstream. This book illustrates the importance of replicating his same concern and compassion for the hurting and alienated in today's society. The gospel must be presented as truly good news! This is possible only when its relational quality is manifested in the lives of believers.
Like Jesus, we must become the "visible expression of the invisible God." Aldrich writes, "People don't care how much we know until they know how much we care."
Copyright © 2006
Related Articles & Content:
Other articles about this topic: