Repenting of Religion
by Gregory Boyd
Reviewed by Terry Akers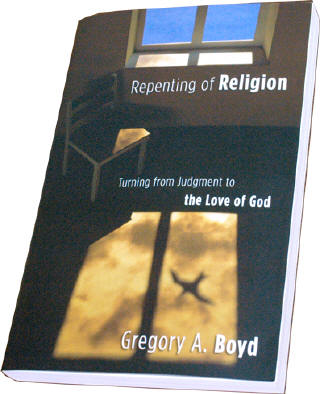 Karl Barth referred to religion as humanity's confusing the Creator with the creature, or the human tendency to make God into its own image. Religion can also be defined as humanity's attempt to ingratiate itself to God through its own efforts. When viewed this way, it becomes evident that Jesus did not come to start a new religion — he came to put an end to religion.
The gospel shows that the new covenant takes salvation out of the hands of humanity through the reconciling and redeeming work of Jesus Christ. This is the subject of theologian and pastor Gregory A. Boyd's book, Repenting of Religion — Turning From Judgment to the Love of God. This book offers insight into how a believer can receive freedom from judgmentalism and self-righteousness — religion's baggage — by saying yes to Christ's healing grace.
In Repenting of Religion, Boyd demolishes the myth that human behavior, morality and religion's legalisms have something to do with salvation. He shows that Christ, through his atoning work for us, has offered his grace to a fallen creation and how humans experience true freedom when they enter into the process of new creation. Through belief they can enjoy healing and liberation from the old person that has become a thing of the past — along with its baggage. The tendency among Christians to harshly judge others and themselves keeps believers frustrated for not measuring up.
The back cover says: "God shares his unsurpassable worth with each of us, making the practice of judgment foreign to Christian character.... Boyd shows you how to begin practicing a religion of love rather than embracing judgmental doctrine based on our human perceptions of morality. He exposes lies we have believed about ourselves and others and demonstrates the freedom we have for establishing true biblical community."
Gilbert Bilezikian, author of Christianity 101, says: "The local church is called to be God's community of redemption rather than the exclusive clique of rejection it has often become. This [book] is a call to repentance."
Boyd proclaims freedom and transformation from our judgmental nature that has become one of religion's habits of the heart, to a new identity as real people in Christ. Repenting of Religion reveals how we can become guilty of creating our own identities by setting up lists of rules for ourselves (and others) and being more concerned with what not to do than walking with the Spirit in the light of grace and truth. It advocates that "the church must be the community of people who simply love as God loves."
This book proclaims the same gospel message that Jesus did — freedom, peace and joy through grace, mercy and healing. Boyd in no way advocates license. He is merely emphasizing the theological truth that our salvation — both our justification and sanctification — is accomplished solely by God in new creation and not through human effort or behavior. The focus through-out is that Christians are free not to judge. When we are free in Christ we are free indeed!
Repenting of Religion offers encouraging insight into the nature of the new covenant, showing how, under grace, the Law's power to condemn us has been broken. The only law that binds us is the Law of Liberty — faith expressing itself in love. Boyd sums up his thesis in an excerpt from page 60: "[We] are called to live in such a way that people can know God by knowing us. We are called to love. We are only balanced in our understanding of love when we understand that it is the one thing we must live in — to all people, at all times, in all situations, without exception. If we do this, everything else we need to do will get done. If we don't do this, there's simply nothing else worth doing."
Copyright © 2005