What About Those Who Have Never Heard?
by Gabriel Fackre, Ronald H. Nash and John Sanders
Reviewed by Paul Kroll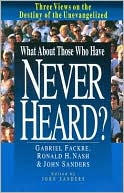 What is the fate of those who died without hearing the gospel or having an opportunity to put their faith in Christ? Can they receive salvation, or are they lost? What about babies and the mentally retarded and those who lived before the time of Jesus?
"These questions raise one of the most perplexing, provocative and perennial issues facing Christians," writes Sanders.
The book presents three main views in answer to this mystery of the destiny of the unevangelized.
Ronald Nash, the late professor of theology and philosophy at Southern Baptist Theological Seminary, presents the view in the book called restrictivism. This view claims that for a person to be saved he or she must know about Christ's saving work and exercise faith in him before death.
John Sanders, Assistant Professor of Religion at Hendrix College, advocates a position called inclusivism. "In this model God saves people only because of the work of Christ, but people may be saved even if they do not know about Christ" (page 13).
Gabriel Fackre, Abbot Professor Emeritus of Christian Theology at Andover Newton Theological School, proposes the view called divine perseverance or what is often called "postmortem evangelization." This view suggests that people who die unevangelized can still receive an opportunity for salvation after death.
The book refers to other views regarding the fate of the unevangelized not discussed in its pages. One idea is that God will ultimately save the vast majority of humans, though proponents sometimes refuse to take a stance on the method God will use to save the unevangelized. Another view is that Christ encounters all people at the moment of death, at which time they receive an opportunity for salvation. Others advocate universalism, which teaches that everyone will be saved.
Sanders points out that the three positions discussed in the book or others referred to are not new ideas. They have had adherents throughout church history. While the three authors disagree about the destiny of the unevangelized, they do agree that the Bible is authoritative and that salvation is possible only through Jesus Christ.
The book won't provide a glib and iron-clad solution to the age-old question of the fate of the unevangelized. Yet, it will allow readers to become better informed about the complex issues involved and the texts of Scripture that are relevant to the topic.
After each author discusses his view, the other two contributors respond. The authors provide a succinct chart of the five main positions and a helpful list of suggested readings for those who want to pursue the topic further.
What About Those Who Have Never Heard? Three Views on the Destiny of the Unevangelized, by Gabriel Fackre, Ronald H. Nash and John Sanders, edited by John Sanders (Downers Grove, Ill.: Inter Varsity Press, 1995), paperback, 168 pages.
Copyright 2007