Classic Christianity
by Bob George
Reviewed by Alfred Nelson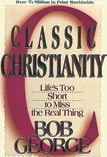 Bob George says this book is about his search for classic Christianity — one man's journey to rediscover "the real thing."
Having given up his quest to become a millionaire at age 36 and going into Christian service full time, he was "doing all the right things," but felt his life was more bogged down than the freeway traffic he was stuck in.
He found the answer in God's unconditional grace. With grace as the foundation of the Christian life, one can begin to understand the difference between punishment and discipline. Punishment is a penalty imposed on an offender for a crime or wrongdoing. It looks backward to the offense, and is impersonal and automatic, with a goal of administering justice. Discipline is training that develops self-control, character and ability — looking forward to a beneficial result. It is a personal and continuous experience (growing in grace and knowledge).
The author also has some thought-provoking ideas about what causes complacency in a Christian's life. He explains, "It is an emphasis on the cross and forgiveness of sins to the exclusion of teaching people about sharing Christ's resurrected life that really leads to complacency." Throughout the New Testament, the dominant motivation for godly living is the love and grace of God. Paul talks about our motivation and behavior in Ephesians 4:1: "As a prisoner for the Lord, thus, I urge you to live a life worthy of the calling you have received." We are now in the process of becoming what we already are — perfect in God's sight!
Classic Christianity, by Bob George. Softcover from Harvest House Publishers; retail price $11.99.
copyright 2006