The Story of Christianity
by Justo Gonzalez
By Terry Akers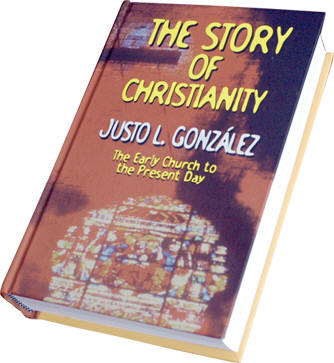 Over the past two decades, Justo Gonzalez's two-volume The Story of Christianity has been a standard introduction to Christian history in seminaries and universities throughout the world.
Volume I covers the lives of key figures and theological developments from the apostolic church to the dawn of the Reformation. The story continues in Volume II from the Reformation to our present day.
Gonzalez is also the author of the three-volume History of Christian Thought and numerous other major works. He was the youngest person to be awarded a Ph.D. in historical theology at Yale and has served as professor of church history at Emory University and United Seminary in Cuba. He is currently on the faculty at Interdenominational Theological Center in Atlanta.
The back cover notes: "The Story of Christianity... brings alive the people, dramatic events and ideas that shaped the church's life and thought. Justo Gonzalez shows how various social, political and economic movements affected Christianity's internal growth, tracing out core theological issues and developments as reflected in the lives and struggles of leading thinkers within the various traditions of the church.... Historian Justo Gonzalez brings to life the people, dramatic events and shaping ideas of Protestantism, Catholicism and [Eastern] Orthodoxy, keynoting crucial theological developments. In particular, the author notes recurring themes of unrest, rebellion and reformation."
Justo Gonzalez's book is one of the best surveys of church history available. It is scholarly without being academic, clearly written and easy to follow, containing numerous maps, charts, timelines and illustrations.
Gonzalez, a Protestant, covers the spectrum of Christian thought and history in his book. It is a good resource for lay people, pastors or students and a launch pad for deeper study in one's area of interest, such as the Patristic period, Middle Ages, Reformation or modern era. The author explains how the Roman Catholic and Orthodox churches and the various Protestant denominations originated and evolved.
Christianity Today has an informative article on its web site:www.christianitytoday.com/history/newsletter/2003/mar28.html, titled, "Top Ten Reasons to Read Christian History." It shows how deeply Christian history is integrated into society, politics and culture and how essential it is to understanding our modern world. The article also points out how an appreciation of Christian history helps root out prejudice and makes us less critical of others and more aware of our own shortcomings and limited perspectives.
Christian Book Distributors offers this classic Christian resource in a new single volume hardcover for $14.99 on their web site:http://www.christianbook.com.
Copyright © 2005