Pocket Dictionary of Theological Terms
by Stanley J. Grenz, David Guretzki and Cherith Fee Nordling
Reviewed by Terry Akers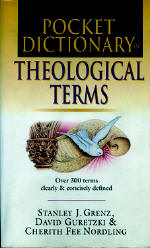 Recognizing the need for a clear and concise theological reference for lay people, theologians Stanley Grenz of Regent College in Vancouver, British Columbia, Canada, along with David Guretzki and Cherith Fee Nordling have co-authored an excellent little book that satisfies this need in the contemporary evangelical church.
Pocket Dictionary of Theological Terms, published by InterVarsity Press, can help anyone seeking a better understanding of the theological terminology and history of the Christian church.
As stated on the back cover, "Beginning the study of theology is like stepping into a conversation that has been going on for two thousand years; but how do you make sense of this conversation — and take part in it — if you don't understand the vocabulary and know what the various participants stand for?"
The entries provide succinct definitions of terms, trace theological movements and traditions and give a brief sketch of the major theologians in church history. It is endorsed by leading evangelical seminaries.
The book has a simple format — the terms, phrases and names are arranged in alphabetical order. Its descriptions are summary overviews, not exhaustive treatments. The writers who collaborated on the Pocket Dictionary are broadly evangelical in perspective, but their definitions are generally accepted from the various Christian traditions. It is not intended to be read from cover to cover, but serves as a reference book to be consulted as needed.
Historically, in the great universities of Europe and America, theology was known as "the queen of the sciences." Karl Barth called it "the joyful science." Christians in fact "do" theology (from the Greek theos, "God" and logos, "speech") whenever they speak of God or things relating to God. This makes all believers theologians whether they realize it or not. But theology can be done well or poorly — that's why a grasp of the terminology is needed for the quality of our "God talk."
The Pocket Dictionary is 122 pages and covers 300 or so theological terms that a person is likely to encounter in books and articles; it is comprehensive for its size. A complete reading would give with a broad grasp of the world of theology. Most definitions simply describe the term for what it is without interpretation.
Grenz, Guretzki and Nordling succeed in fulfilling their stated purpose for this book — to "provide you with a foundational, working knowledge of the concepts."
---
Theology has been classically described as "faith seeking understanding." It provides a valuable service to the church by keeping it Christ-centered and safely within the middle swath of orthodoxy. It appeals to Holy Scripture, protecting the church from heretical ideas that press in against it.
Scripture directs the church to be ready to give an answer for its faith and to faithfully proclaim the gospel, and an effective vocabulary is a vital key to success in both areas. All members of the Body of Christ need to articulate what they believe in a way that is faithful to God's Word. This little book is a good starting point to do this.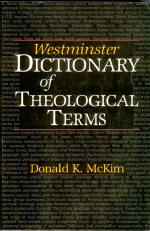 The Westminster Dictionary of Theological Terms by Donald K. McKim is a similar work published by Westminster John Knox Press. It also offers brief definitions of more that 5,500 terms drawing from 21 theological disciplines. The terms listed alphabetically are defined in one to three sentences.
These two books compliment each other, as one often provides an extra dimension to the other that makes the meaning clearer. These two volumes serve the layperson well for their general theological needs. They may be ordered through most Christian bookstores or purchased at amazon or christianbook.com.
Copyright © 2005