Jesus, the Man Who Loved Women
by Bruce Marchiano
Reviewed by Ruth Miller
This book," Marchiano explains, "is written for a singular purpose: that you might know Jesus a little better, and that you might draw closer to him as a woman and understand his specific heart for you" (page 152).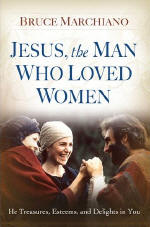 Though written especially for women, any reader will find the book fascinating as it challenges a host of popular misconceptions about what Jesus really came to do.
Marchiano draws heavily on his personal spiritual journey as he portrays Jesus as a loving, compassionate, tender and merciful Savior. In his experience he came to the conclusion that he knew a lot about Jesus, but simply did not know Jesus himself as a man who epitomized love.
The book explores the lives and experiences of eleven women who encountered Jesus. Although their stories go back 2,000 years, Marchiano believes that women today can relate to the experiences, both good and bad, that these women shared. Jesus reached out to all of them with unconditional love, acceptance and admiration.
One of the most interesting aspects of the book is the compilation of scriptures chosen to present each encounter Jesus had with these particular women. He draws from both the Old and New Testaments, showing how Jesus fulfilled prophecies as he lived out his earthly ministry.
Marchiano believes that the one special quality of character that sets an individual apart is a desire to seek after God. The women presented in the book were all seekers of God. The book attempts to help women see Jesus as a real man, and to experience his amazing love. So often we tend to think of Jesus in "religious" terms, rather than seeing him as a human who experienced everything that we experience. It's somehow easier to understand the "fully God" part of Jesus than to grasp the "fully human" Jesus who lived and breathed and shed tears — just as we do. This book gives the reader an imaginative and thought-provoking look at Jesus the man.
One of the women whose story is graphically portrayed is Mary Magdalene, whose life has intrigued writers and researchers for centuries. Marchiano's fresh analysis of her struggles is certainly worth the read.
Marchiano wants the reader to understand that the pain and suffering we humans experience is not caused by God, but rather is caused by the broken world in which we live. God, in his redemptive love, works through the brokenness to bring healing and hope. In the epilogue, Marchiano quotes his retired pastor, Jack Hayford: "We live in a broken world full of broken people who cut each other with the jagged edges of their broken choices and ways."
Marchiano's goal is to give readers a heightened sense of the powerful emotions Jesus displayed and the overwhelming love he has for his creation, and in this he has brilliantly succeeded.
Bruce Marchiano, Jesus, the Man Who Loved Women: He Treasures, Esteems, and Delights in You. Howard Books, 2008. Paperback, $14.99.
Copyright 2009