Everything Must Change: Global Crises and a Revolution of Hope
by Brian McLaren
Reviewed by Brenda Steffen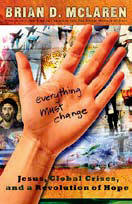 My father-in-law often says, "Change is as good as a holiday." I tend to agree — even something as simple as a change in seasons (especially to the warmer ones) often gives us the same lift as taking a vacation.
But change is also feared. Most of us have a comfort zone we don't like breached. Even our churches have programs, events and people who make us feel comfortable, and we usually don't like someone coming in and rocking the boat.
It's little wonder then, that Brian McLaren's latest book, Everything Must Change, has gotten mixed reviews. It is a bold title, but then, this is a bold book. Like him or not, McLaren has something to say, and chances are, it may crack the barrier to your own comfort zone.
Everything Must Change proposes that our world is operating as a "suicide machine," spiraling into chaos as a result of our dysfunctional approach to prosperity, equity, security, and spirituality. The author suggests we've dug our own grave through warfare, globalization and an economy in which the rich get richer and the poor even poorer.
McLaren asks two main questions: what are the biggest problems in the world, and what does Jesus say about them? These are not questions often asked by any church, and yet shouldn't they be topics of discussion amongst those of us who follow Jesus — a Jesus who, McLaren suggests, came not just to save us from our sins, but to teach us how to live with justice, peace, equality and compassion in this world.
I have struggled with many of the issues McLaren faced as he traversed the globe. Through it all, I have ached and still ache for the church to return to "the Way," as McLaren states — the term used to describe the community of believers in the book of Acts. Those believers had to learn how to share everything with each other and with others, and through their witness of the good their day. Yet it often seems that churches around the world focus more on the style of worship or the size of the building, than on racism, warfare, poverty or the environment.
This book was an overwhelming reminder for me of how messed up our world's society has become. McLaren's ideas, however, still seem revolutionary to some people. This is not a feel-good book. Some readers may find his tone patronizing, and even in some instances, heretical. I encourage readers of this book not to get bogged down in one or two points of disagreement, but to read the book in its entirety with a global image in mind and see why McLaren insists that our view of Jesus and our role in society must change.
Brian McLaren, Everything Must Change: Jesus, Global Crises, and a Revolution of Hope, Thomas Nelson, 2007. 256 pages. $21.99.
copyright 2008