Three Cups of Tea:
One Man's Mission to Promote Peace…
One School at a Time
by Greg Mortenson and David Oliver Relin
Reviewed by Cheryl Shallenberger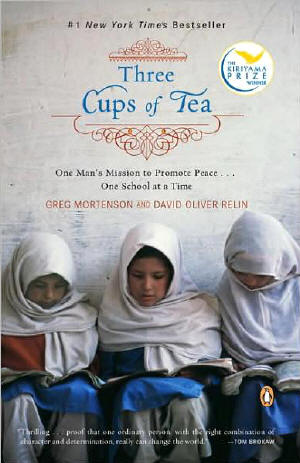 After a failed attempt to scale the world's second highest peak, K2, Greg Mortensen was saved and cared for by the Balti people of an impoverished Pakistani village. When he recovered, he resolved to repay the generosity of the village leader and his people by building them a school.
It took years of struggle to complete the school, but along the way his commitment evolved into building many more schools for both boys and girls in this Muslim country. As his goals grew, so did Mr. Mortenson as he learned from his new friends that building relationships was just as important as building schools.
This book helped me understand that education is a key to peace. Fighting terrorism was not Mr. Mortenson's goal when he built the first school, but he came to see how education does help reduce terrorism. Three Cups of Tea is now required reading for senior U.S. military commanders, Pentagon officers in counter-insurgency training, and Special Forces deploying to Afghanistan. Mortenson explained, "Illiterate young boys often wind up in [terrorist] camps. When we increase literacy, we substantially reduce tensions."
Eventually, despite the many obstacles, setbacks, threats and even being kidnapped, Mortensen received the blessing of the Pakistan government, giving him permission to build schools and other projects. Now, as co-founder and executive director of Central Asia Institute (CAI), Motensen has built more than 130 schools and projects.
As the CAI expresses it, "The tribal communities of northern Pakistan taught Mortenson a critical lesson in our first five years of existence: sustainable and successful development can only occur when projects are entirely initiated, implemented and managed by local communities. It is also important to listen and learn from the local communities served, rather than impose external evaluations or judgment of what is best from an outsider's perspective."
The book's title comes from a Balti proverb: "The first time you share tea with a Balti, you are a stranger. The second time, you are an honored guest. The third time you become family." Three Cups of Tea, a New York Times bestseller, is a testimony to the power of one man's devotion and determination, as well as his readiness to listen and learn from those he is committed to serve.
Copyright 2010