Traveling Light: Modern Meditations on St. Paul's Letter of Freedom
by Eugene H. Peterson
Reviewed by Terry Akers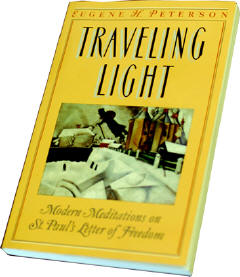 In the late 1980s, before authoring The Message Bible, a popular contemporary paraphrase, Eugene H. Peterson wrote a book expounding the message of Christian freedom proclaimed in Paul's epistle to the Galatians. Traveling Light: Modern Meditations on St. Paul's Letter of Freedom is a powerful devotional commentary in which Peterson's gift for modernizing Paul's words is clearly evident.
Peterson served for 29 years as a pastor and has written more than 20 pastoral and spiritually oriented books including Run With the Horses, Subversive Spirituality and The Contemplative Pastor. Until his retirement, he served as professor of Spiritual Theology at Regent College in Vancouver, British Columbia, Canada.
Through each chapter of Traveling Light (Helmers & Howard, 1988) Dr. Peterson paints a picture that defines the central theme of Galatians — our freedom in Christ. He describes a defining moment in his life in the early 1980s when he saw that many Christians were not living lives that reflected the true freedom we enjoy in Christ:
"When I looked at the people I was living with as a pastor, I realized how unfree they were. They were overcome with anxieties in the face of rising inflation. They were pessimistic about the prospects for justice and peace in a world bristling with sophisticated weapons.... They were living huddled, worried, defensive lives. I wanted to shout in objection: Don't live that way! You are Christians! Our lives can be a growth into freedom instead of a withdrawal into anxious wariness."
Traveling Light distinguishes between the "fantasies of freedom" based on the illusions of money, power, sex, fame and leisure, and true freedom realized in an internal faith-based relationship with Jesus Christ — the freest person who ever lived. Traveling Light demonstrates the need for believers to realize their true identity as real people in Jesus Christ.
Throughout the book, Peterson illustrates from experience: "When I live in faith I live freely. When I set God at the center of my life, I realize vast freedoms and surprising spontaneities. When I center my life on my own will, my freedom diminishes markedly. I live constricted and anxious."
In the concluding chapter, Peterson summarizes:
"Apart from faith in God we live in a world of brute determinism, bullied by those who are stronger than we, coerced by laws that are alien to our nature, constricted by hostile forces. Or, we live in an absurd, haphazard randomness. In faith, we find ourselves in a conscious and developing relationship with a free God and therefore able to experience and realize freedom ourselves, achieving 'an elegant solution,' forging 'a beautiful life.' This book brings to life the full meaning of the message of Galatians — 'If the Son makes you free, you are free indeed.'"
Copyright © 2005