The Grace Awakening
by Charles Swindoll
Reviewed by Terry Akers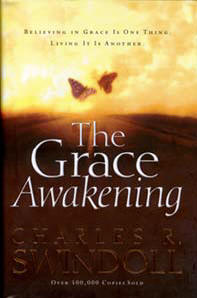 By the end of the 1980s the Berlin Wall was coming down and freedom from political tyranny was breaking out across Eastern Europe and in the Soviet Union. At the same time, Charles Swindoll, a prolific Christian writer and former legalist, sensed a similar need for spiritual liberation in the church. Reflecting on 2,000 years of church history, Swindoll began to realize how difficult the battle for grace has been in a performance-based world.
It started with Jesus' cry for freedom and the resulting confrontations with the religious establishment in his day. The European Reformers' message of "by grace alone through faith alone in Christ alone" met with similar opposition. Even in our day, religious oppression continues to plague millions. This personal reflection led to a spiritual awakening for Swindoll personally and resulted in the book, The Grace Awakening.
Swindoll calls the perpetrators of legalism "grace killers." These are people who have a personal stake in perpetuating the status quo through a message of fear, guilt and never measuring up. They are negative, and use all sorts of harassment tactics to keep others in the same bondage they enjoy. The following quote is from the Preface:
Scarcely a day passes when I am not reminded of the need for a book emphasizing the full extent of grace, giving people permission to be free, absolutely free in Christ. Why? Because so few are! Bound and shackled by legalists' lists of dos and don'ts, intimidated and immobilized by others' demands and expectations, far too many in God's family merely exist in the tight radius of bondage, dictated by those who have appointed themselves our judge and jury. Long enough have we lived like frightened deer in a restrictive thicket of negative regulations.
The Grace Awakening exposes the grace killers' philosophy of various forms of legalism for what they are — cruel and enslaving lies. The book is a powerful defense of the liberating gospel of grace. It demonstrates the fallacy of our Western "no free lunch" and "rugged individualism" mindset that has for too long rubbed off on the church.
It shows how many have come to Christ by grace alone, only to have an abundance of works thrown at them in order to "keep their salvation." Swindoll says that we have been sold a bill of goods with the idea that we have to "earn what we get" when it's applied to our salvation in Christ.
The book successfully exposes the false notion that our good works, behavior or obedience somehow contributes to the salvation process. There is no hint of, "now you can do as you please," however. True grace involves the practical outworking of holiness from the basis of God's unconditional love. Our justification and sanctification are bound up together in Christ.
The Grace Awakening is a book to be received with joy. Its message is pure gospel—liberating and exciting. It recaptures the original intent of Jesus' proclamation of freedom from oppression and bondage that has often been obscured in church history.
In the chapter titled, "The Grace to Let Others Be," Swindoll explains the two dimensions of grace: "Vertical grace centers on our relationship to God. It is amazing. It frees us from the demands and condemnation of the Mosaic Law. Horizontal grace centers on our human relationships. It is charming. It frees us from the tyranny of pleasing people and adjusting our lives to the demands and expectations of human opinion." This book makes a clear distinction between shame-based spirituality and a healthy spirituality.
The Grace Awakening is a major contribution to modern Christianity. Readers may find the book a refreshing, uplifting and gloriously freeing experience as it gives them permission to be themselves. This book can make a real change in one's attitude and outlook toward life and one's concept of who and what God is.
Swindoll sets a solid foundation for the Christian faith in this book by portraying the grace of God as its cornerstone, displayed to humankind through his Son, Jesus Christ. He calls for everyone to awaken to the simple truth that we are all sinners in need of a relationship with a loving God. Beyond Christ's one sacrificial act, there is absolutely nothing we can do, but to accept his gracious offer.
Copyright © 2004