The Mediation of Christ
by Thomas F. Torrance
Reviewed by Terry Akers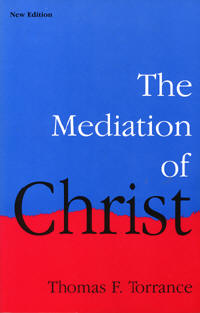 Thomas Forsyth Torrance is one of the premier theologians of our time. As an accomplished student of Karl Barth, he was entrusted to edit the Swiss theologian's monumental Church Dogmatics as it was being translated into English. In 1989, he wrote The Trinitarian Faith, one the finest treatments on the nature of God ever produced. He served as professor emeritus of Christian dogmatics at New College in Edinburgh, Scotland, for 25 years.
Torrance is highly regarded around the world for his intellectual and insightful trinitarian and scientific theology. He has authored more than 30 books and hundreds of articles important to the emerging discipline of Science and Theology.
Torrance's The Mediation of Christ is one of his most accessible books. (Note: It is important to get the revised edition, which includes a fifth chapter, "The Atonement and the Holy Trinity.") At only 126 pages, without any footnotes and a minimum of scholarly language, it can be followed by the average reader with little difficulty. The book's subject matter, the atoning work of Jesus Christ, is of immense importance for evangelicals. A proper understanding of the atonement enables Christians to effectively share their faith by articulating the gospel more accurately.
Torrance eloquently expresses how absolutely vital to our spiritual welfare is the concept that salvation is bound up solely in Jesus Christ through grace alone. It in no way involves a partnership effort on our part. As he explains, however, "All of grace does not mean nothing of man… all of grace means all of man."
This is not a contradiction. He is speaking of our redemption in Christ. When we are born again, we enter the process of becoming new creations in Christ, and we can rest in total assurance that he will complete it. Things break down only when we try to hold onto even one percent of ourselves and stop trusting him completely to accomplish the work of spiritual formation he began in us.
As the book unfolds, Torrance sheds light on the mediating work of Jesus in his vicarious humanity for us. He presents Jesus Christ as fully God and fully human as attested to in the early creeds of the church. "It is as man that God himself comes to us in the Incarnation." There is no hidden God behind the back of Jesus — God fully reveals himself to us in Christ. Within this discussion, Torrance explains biblically how Jesus entered into our fallenness, partaking of the sin, death, evil and judgment that stood against us and transformed them into a new creation.
Christ conquered everything that opposed our hope of becoming real persons by entering vicariously into our fallen humanity and redeeming it. He reconciled God and humanity through his work of mediation on our behalf. As a result of this total victory, he now offers us his healing (including healing of the mind) and his shalom peace through the Holy Spirit.
Torrance wrote: "He took our corrupt humanity in his incarnation, sanctified, cleansed and redeemed it, giving it new birth, in his death and resurrection." God's atoning work for us in Jesus Christ fully expresses his love for the creation and his desire to enter into relationship with it. In The Mediation of Christ, Torrance expresses in a masterful way the importance of a correct appreciation for the atonement and what it means to the believer. This understanding also affects the way we present the gospel to others.
The unevangelical way of conditional grace takes the responsibility off the shoulders of the Lamb and places it on the person — a hopeless prospect. The evangelical way is to be preferred. The message of God's grace and unconditional love presents redemption as an accomplished fact by the atoning work of Jesus Christ. We have already been elected in him. Even our human response to God is through his perfect response. All that remains is to receive what we already have by repenting and trusting in Christ Jesus.
Copyright © 2004