Messy Spirituality
by Michael Yaconelli
Reviewed by Terry Akers
Christian youth ministry suffered a loss in 2003 when Mike Yaconelli died in an auto accident at age 61. He was a speaker, author and co-founder of Youth Specialties (www.youthspecialties.com), a ministry to youths and youth workers.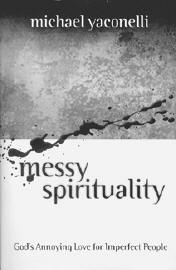 Yaconelli was not ordained but ministered for more than 40 years as a lay pastor, writer and lecturer. His last book, Messy Spirituality — God's Annoying Love for Imperfect People, summed up his life and message. His passion for living and uncompromising honesty gave him wide acceptance across denominational lines and among youths of all ages. He deplored prepackaged answers. Instead he focused on our need for God and honesty about our brokenness.
Yaconelli tried to get people to examine their beliefs and assumptions. He thought that the church needed to "get over itself" and quit taking itself so seriously. He taught that being in love with Jesus was the key to conquering the frustrations of institutionalism and bureaucracy.
In Messy Spirituality, Yaconelli's habit of speaking the truth in regard to the messy nature of our relationship with God has upset many modern Pharisees. Religion can become obsessed with its image and will do anything to protect it, including denial. There are always those who don't want their religious applecarts upset and can become quite indignant when the facade is exposed. Yaconelli had a gift for cutting through the hypocrisies, inconsistencies and perfectionism that plague the modern church.
As this book illustrates, Yaconelli went about his ministry with humor and humility. His sincere, engaging style was instrumental in changing the face of youth ministry over the last three decades, making Jesus' gospel of unconditional love relevant to this generation. Messy Spirituality was written for those who have bought into the lie that "competence is one of the fruits of the Spirit" and have become convinced that they "just don't do Christianity right."
Yaconelli shows how real discipleship is "messy, erratic, lopsided and… gloriously liberating."
He dares to ask, "What if genuine faith begins with admitting we will never have our act completely together?"
Messy Spirituality shows how God's unconditional and transforming love for us is the essence of true spirituality. It is about loving and being loved — it is not based on the ideas conjured up in human minds that only serve to make us feel like we are never measuring up. Realistically, our spiritual growth chart should not be viewed as a perfect 45 degree angle, but more like the Dow Jones graph. Yaconelli says that Jesus not only loves us, he likes us, shortcomings and all. He redeems our inconsistencies, doubts, addictions and failures by his unceasing grace, transforming them into new creation. God turns "our messes into his masterpieces." We need not be paralyzed by our past; we can receive real healing, peace and freedom in Christ Jesus.
Through true life story after heartrending story he describes how God creatively uses our most profound weaknesses to work his greatest wonders. Throughout the book he makes it clear that spirituality is not a formula; not a test or program. It is a relationship. It is not about competence; it is about intimacy. It is not about being fixed; it is about God's redeeming presence in the midst of our inadequacies.
Messy Spirituality's message teaches us how to slow down and focus on the things that matter. Most importantly, it forcefully declares how we have been accepted by God in Jesus Christ. When really believed, this becomes the most liberating piece of knowledge we could ever possess. It effectively demonstrates how our messes are merely God's opportunities.
Please note: All the books reviewed in Christian Odyssey are available, usually discounted, at amazon.com or through your local Christian bookstore.
Copyright © 2005