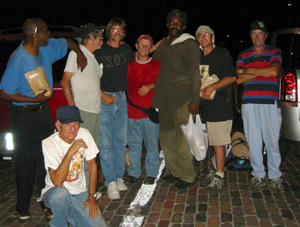 Above: Todd and the guys. Below: Eloise and Todd having a laugh. Bottom, Sara talking with Steve.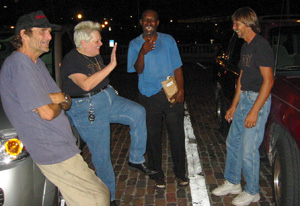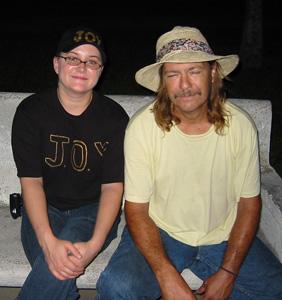 I live in Tampa, Florida, which is rated as one of the best places in the USA to live. Provided you have a home. Many people don't, and they spend their lives roaming the streets with their few possessions stuffed into old bags or a stolen shopping cart. They are looking for food and shelter – and for hope.
Some choose this lifestyle, but most don't. They are ordinary people whose problems have overwhelmed them, and for one reason or another they have fallen through the cracks of normal society. When we see street people, we often tend to think, "There but for the grace of God go I." So one day, some of us in my local church decided to turn that around. We thought, why not take the grace of God to them? And that's how J.O.Y. Ministries began.
Jesus Only You = J.O.Y.
In 2005 three of us began meeting in downtown Tampa on Friday nights. We filled backpacks with sack lunches, prayed for God's direction, then walked the streets looking for hungry people. When we found them, we offered them a lunch and stayed to chat as long as they were comfortable.
The street people were suspicious at first, but after a few weeks we could see that they had begun to trust us. Eventually, they accepted us and even came looking for us, so we moved to a fixed location, a public parking lot where we could bring our vehicles and more provisions.
There are now four core members of the J.O.Y. ministry who go out every Friday night to visit with our street friends. We have been joined by volunteers from other Christian denominations who provide food, clothing, personal products, Bibles, prayer and funding. It is wonderful to see Christian people from different denominations working together to provide physical and spiritual care to those in need.
Several youth groups have also helped out. It is rewarding to see these young people begin to realize that the street people are just ordinary people who have been the victims of bad luck or bad choices.
Every Friday night, we prepare 80-90 sack lunches consisting of a sandwich, a bottle of water and an individual snack of potato chips or Cheetos. Then, after praying for God's direction and coordinating the night's activities and supplies, we drive to the location where we minister to those who come to meet us. We give everyone a sack lunch along other things we might have available: clothing, personal care items, backpacks and blankets.
 It isn't just about food. It is also friendship and fellowship.
Our brothers and sisters who live on the streets need these physical things, but I think the most important part of our ministry is the friendship we develop with them. We don't judge or condemn them. We remember that Jesus loves them as much as he loves us. We don't preach at them, but we are always prepared to answer their questions. We spend as much time as possible just listening to them, encouraging them, and praying for anyone who desires it. We end each evening with a prayer circle and invite all to participate. Many do.
Where do we go from here? We hope to establish a church. This church would offer nourishing food, both physical and spiritual. And this church would welcome everyone equally—not only the friends we serve on Friday nights, but anyone and everyone who would like to attend. That may seem an unnecessary statement, but homeless people often feel they are not welcome to worship with "respectable" folks. We would like to show them the unconditional love of their Creator, Savior and Comforter, and help them understand that they too have a place in the family of God.
Eloise Kurzawa
Related Articles & Content:
Other articles about this topic: