By Shiela Miller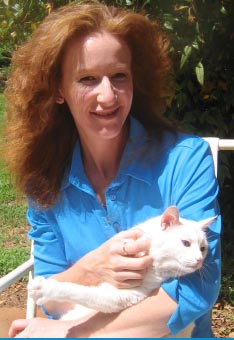 Three years ago I answered an advertisement to buy a three-month-old kitten for $10. She was adorable, pure white with one blue eye and one brown. We named her Daphne.
Daphne was incredibly calm on the ride home. That should have warned me that something was not quite right. My last cat used to moan miserably every time he was placed in a moving vehicle. Later, when my children and I were in the kitchen making smoothies, I observed more strange behavior.  I asked them to watch Daphne's reaction when I started the blender. But she showed no reaction at all.
As I observed her throughout that first evening, the light finally came on. Daphne was profoundly deaf. Some quick research on-line showed me that deafness is common in a cat with one blue eye. At first I was a little worried, but I soon realized that with two preschoolers, it was a blessing to have an extremely calm animal. She is always well rested, as she sleeps not only through everyday commotions, but also loud noises, like the children's occasional crying or screeching, the vacuum cleaner, telephones and all high-pitched alarms.
 There are a few drawbacks to having a deaf cat. We can't call her to come, "Here, kitty, kitty!" (That actually didn't work well with the last cat, either, but at least he'd come running when he heard the can opener!) We had to un-train ourselves from "kitty-speak," as she can't hear anything we say, and I had to teach her some sign language also. She understands the "no" sign when I snap my first two fingers and thumb together to show her she's doing something wrong, and I also wiggle my fingers so she knows when I want to pet her. The main drawback to having a deaf cat appears to be that she's a terrible mouser. She'll get a whiff of one and prowl around as though she's an expert, but since she can't hear, she's no hunter and we still have to rely on actual mousetraps.
Daphne's litter box has a large opening for her to enter and is topped by a plastic hood to keep all the litter inside. Although I can't blame it on her deafness, Daphne has an unusual habit after doing her "business" inside. She will exit the box and then scratch on the OUTSIDE of it. She promptly gallops as fast as she can to the far end of our long house and then back again to scratch more in the same odd area. For those of you who are not familiar with a cat's normal behavior, they should completely cover their "business" with the clean litter so there's no bad odor. Well, we've all decided that she is so proud of her uncovered, extremely smelly deposits that she must wildly run to announce to the world what she's accomplished. Believe it or not, I have actually learned some spiritual truth from cleaning her box out.
Apart from Jesus, our actions are nothing but smelly deposits. We may be proud of them and proclaim loudly that we did something valuable. But in the end, it's really nothing greater than reeking cat poo. If we realize we've screwed up and harness our energy to hide the mess ourselves (like Daphne, scratching uselessly on the outside of the box), it will NEVER get covered up. It is only when we willingly accept Jesus as our Savior and cover our sins with his blood that our true stench goes away and we can be purified from all sin. "But if we walk in the light, as he is in the light, we have fellowship with one another, and the blood of Jesus, his Son, purifies us from all sin" (1 John 1:7).
It did occur to me that comparing the blood of Jesus to cat litter could offend some readers. But guess what? I am in good company. The Bible itself makes great use of a pretty revolting description as it portrays our own righteousness as "filthy rags" in Isaiah 64:6. "All of us have become like one who is unclean, and all our righteous acts are like filthy rags; we all shrivel up like a leaf, and like the wind our sins sweep us away."  Isaiah wasn't referring to some rags that got a little dusty and need to be shaken out. These were used, bloody menstrual rags that were ceremonially unclean. It was probably the most disgusting example Isaiah could have used to shock his audience. But Isaiah never knew Daphne!
Well, I may not be able to train my deaf cat how to cover her own stinking mess properly with clean cat litter. But thanks be to God who loves us that he's made provision for our own messes to be cleansed once and for all! Where do YOU scratch the cat box?