Grace Communion Seminary (GCS) is pleased to announce that our seminary has been officially accredited by the Distance Education and Training Council (DETC), whose headquarters are located in Washington, DC. We asked GCS President Russell Duke what this means for the future of the Seminary and for the GCI denomination.
Christian Odyssey: What is the Distance Education and Training Council?
Russell Duke: DETC is listed with the United States Department of Education as a nationally recognized accrediting agency and is a member of the Council for Higher Education Accreditation. DETC requires programs in its accredited institutions to be at a minimum of 51% online education.
Accreditation is seen as third-party approval of our curriculum and administration. It makes it much more likely that  coursework completed at GCS can be transferred to other institutions. Accreditation may also enable graduates to enter other academic programs or gain advancement in employment based on completing a master's degree. In a few cases, it may enable students to qualify for tuition assistance or matching donations from their employers.
Our goal is to provide quality online graduate-level education in pastoral ministry. The seminary began online programs in 2004. The online delivery of our curriculum serves busy pastors who cannot leave pastorates for the residential seminary. Lay persons and ministers can take courses of interest in order to enhance their ministry through better understanding the nature of God, participation in the ministry of Jesus, and revelation through the Bible. Our perspective focuses on Trinitarian Incarnational theology and pastoral ministry. Our programs are entirely online and easily accessible.
CO: What degree program do you offer?
RD: Our degree program is the Master of Pastoral Studies, which requires completion of 14 courses, including a Theology of Ministry thesis. Courses are offered in biblical studies, theology, church history, and ministerial and pastoral leadership. All courses must be finished within seven years, so students can earn a degree by taking only two courses per year.
All students initially enroll in Master's Level Continuing Education courses in the area of their interest. Upon completing four courses, students receive the Certificate of Theological Studies, and upon completing three more courses (two in Christian ministry) they receive the Advanced Diploma of Christian Ministry.
Our strategic plan calls for the development of additional graduate degrees in theology and ministry.
CO: How is the seminary administered?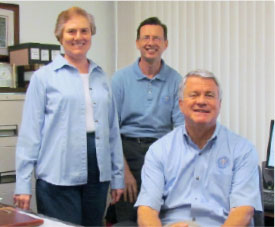 Meet the Staff. Susan Earle, Registrar; Michael Morrison,
Dean of Faculty; and Russell Duke, President
RD: GCS is governed by its own board of directors. Dr. Joseph Tkach is chairman; directors include Dr. Dan Rogers, Dr. John McKenna, Ronald Kelly, Patricia Shaw, and me. Dr. Bernard Schnippert provides legal counsel, and Mat Morgan is treasurer.
As president, I direct operations of the seminary; I also serve as accreditation official. Dr. Michael Morrison serves as dean of faculty to guide curriculum development and delivery. Susan Earle is our registrar and coordinator of student services.
CO: How much does it cost?
RD: Our tuition costs are  competitive. Starting in 2013, each three-unit course will cost $300, which is much less expensive than most seminaries. Our tuition is kept low because 87 percent of our expenses are covered by endowment funds. The Master of Pastoral Studies requires taking 14 courses, so the total expense is approximately $4,200, plus about $500 for books. Some financial assistance is available from our scholarship funds; see our website for application details. These scholarships come through donations given by individuals who value education as essential to growth in the denomination.
Some congregations may expect pastors to spend all their time visiting members and to produce meaningful sermons without adequate time for education and preparation. But a wise congregation gives leaders time to study, time to reflect and time to develop depth. A wise congregation will support its pastoral team in seeking more education—and this means giving them both time and tuition.
The apostle Paul asks, "Who serves as a soldier at his own expense? Who plants a vineyard and does not eat its grapes? Who tends a flock and does not drink the milk?" (1 Corinthians 9:7). We understand that some congregations cannot provide salaries, but almost all congregations can help the pastor pay for books and education—especially when that training is undertaken not for the pastor's own benefit, but in order to serve the congregation!
CO: You mentioned endowment funds?
RD: Grace Communion Seminary is affiliated with Grace Communion International, and we have the same statement of beliefs. Our major source of funding at the present comes from endowment gained over the years from donations from church members who have given gifts and trusts dedicated to education. We appreciate what those contributions are able to accomplish today, and we welcome additional support for tomorrow.
CO: Why does GCI need its own seminary?
 
 
 


Courses of study

Grace Communion Seminary offers courses in four major disciplines: biblical studies, theology, church history, and ministerial and pastoral leadership. The course titles identify the main theme developed in the course; additional information can be found in the short course syllabi on the GCS website:

Biblical studies
Pentateuch—John McKenna
Prophets—Tim Finlay
New Testament Background—Michael Morrison
Gospels—Michael Morrison
Acts of the Apostles—Russell Duke
Epistles of Paul—Michael Morrison


Christian Ministry
Ministerial Leadership—Russell Duke
Pastoral Leadership—Russell Duke
Biblical Counseling—Ted Johnston
Practice of Ministry—Jonathan Stepp
Women in Leadership—Pat Shaw
Trinitarian Youth Ministry—Ted Johnston


Church History
The First Millennium—Jonathan Stepp
The Second Millennium—Neil Earle


Theology
Nature of God and Jesus Christ—Russell Duke
Nature of Humans and Salvation—Eric Wilding
T.F. Torrance's Scientific Theology—John McKenna
Doctrine of the Trinity—Gary Deddo
Pauline Theology—Michael Morrison


Theology of Ministry
Thesis—instructor assigned based on topic.

For syllabi and more details on each course, see www.gcs.edu/course




RD: Our denomination needs a formal program for educating new and existing pastors and pastoral teams. Many of our pastors are already well trained and have decades of experience in pastoral work. But even highly competent leaders benefit from a lifelong commitment to further education—and in our online discussions, younger students who are taking the same classes benefit from those years of experience. A formal program, conducted according to high  educational standards, helps ensure that leaders are not just studying the topics they happen to like, but are getting a well-rounded exposure to other topics that are useful in pastoral work.
As our denomination looks forward into the next ten years, we anticipate that many of our present pastors will retire, and we need to train a new cadre of men and women who can take their place. These new leaders need training not so much in the doctrinal changes we have made, but in how we go forward from where we are now: the basics of pastoral practice and how they are based on biblical teachings and theological foundations. We believe that our Trinitarian, Christ-centered theology provides the best possible anchor for ministry in the 21st century.
Our cohesion as a denomination will be improved if our churches  work with a shared theological vision and our leaders have received similar training. We further see the seminary as an additional way to share the gospel with people who are  outside of our denomination. Many people want to dig deeper into their Christian faith with academically respectable study that is simultaneously based in the Bible and in grace. They are eager to see how theological ideas have practical significance in daily life.
CO: So it is not just for pastors.
RD: Right. Seminary study is not just for pastors—it is for many others who would like to learn more about the faith. Although our program is designed primarily with pastors in mind, we welcome anyone with a bachelor's degree who wants to learn more. There are two basic reasons why many Christians want to learn more:
1. Love for God. What God has done for us in Christ has so profoundly changed us, so thrilled us, that we would like to learn as much as we can about who God is.
2. We would like to tell others about it, but we want to do it right. We have seen how well-meaning but self-taught people can lead others astray. So in humility, we look for instruction from people who have gone before us. Paul told Timothy to set up a pattern of one generation teaching the next (2 Timothy 2:2), and we see ourselves in that chain of instruction.
A seminary helps students cover the full spectrum of subject matter that may be useful for leaders in the church. Every person has blind spots, and if left on our own, we would have  holes in our understanding. But by pooling our expertise, by people with different gifts working together, we create a more rounded program of study.
We believe that Grace Communion Seminary is a blessing for our denomination, for our students and for our congregations. We are pleased that we have received accreditation, because we believe that this will help us serve even more effectively. We give thanks to the Father, Son, and Spirit for all grace and goodness.
For more information about Grace Communion Seminary,
visit www.gcs.edu