In the previous issue, we announced that Christian Odyssey will transition from a print magazine to an online magazine. Well, here it is—the transition issue. This will be the last edition of Christian Odyssey that we will produce as a print magazine. It is also the prototype of a brand new kind of publication.
Some readers will be excited, thinking, "And about time too!" This article is not for them because they already know what to do. But others of you are reading with a growing sense of dismay, thinking you may never master the technology to get Christian Odyssey magazine electronically.
We don't want to lose any of our readers, so let's see what we can do to help. In this article, we want to show you how to access and use the key features of the new Internet-based version of the magazine. Making the move to digital isn't nearly as daunting as you might think. So don't throw up your hands in surrender just yet.
What do you need?
Just as you need a mailbox to get the print edition, you will need something on which to view the magazine. You may already have a computer, or tablet such as the Kindle Fire or Nook Color, or even a smartphone. Since the website is "mobile friendly," you can access it with a tablet or smartphone.
Your device, whatever it is, will need to be connected to the Internet. So, just as you also need an address to have the print version delivered, it is helpful to have an email address to receive Christian Odyssey online. You may already have one. If not, you need to set one up. It is easy, and it doesn't cost a thing. (A hint for older readers: grandchildren can be a big help here—they seem to be born knowing how to do all this.)
The easiest way to access Christian Odyssey is by opening any web browser (like Internet Explorer or Firefox) and going to www.christianodyssey.org. You will see the "homepage" come up on your screen. It looks like this (top of next page).
Feeling at home on the homepage
The first thing you should do is sign up for our email newsletter. All you have to do is type your email address in the box marked "Subscribe to Christian Odyssey via email" and then hit the subscribe button. We'll do the rest. Every new issue will be sent to you automatically, with links to all the magazine's content.
Below this you will see a list of articles in this issue. Click on any one of them, and the article will appear on your screen in an easy-to-read format. In the left column you will see a list of the other articles and features in this issue. Just click and read.
Yes—it really is that easy. You can even print the articles out for later reading, provided you have a printer. (Once again—grandchildren may be needed for this.)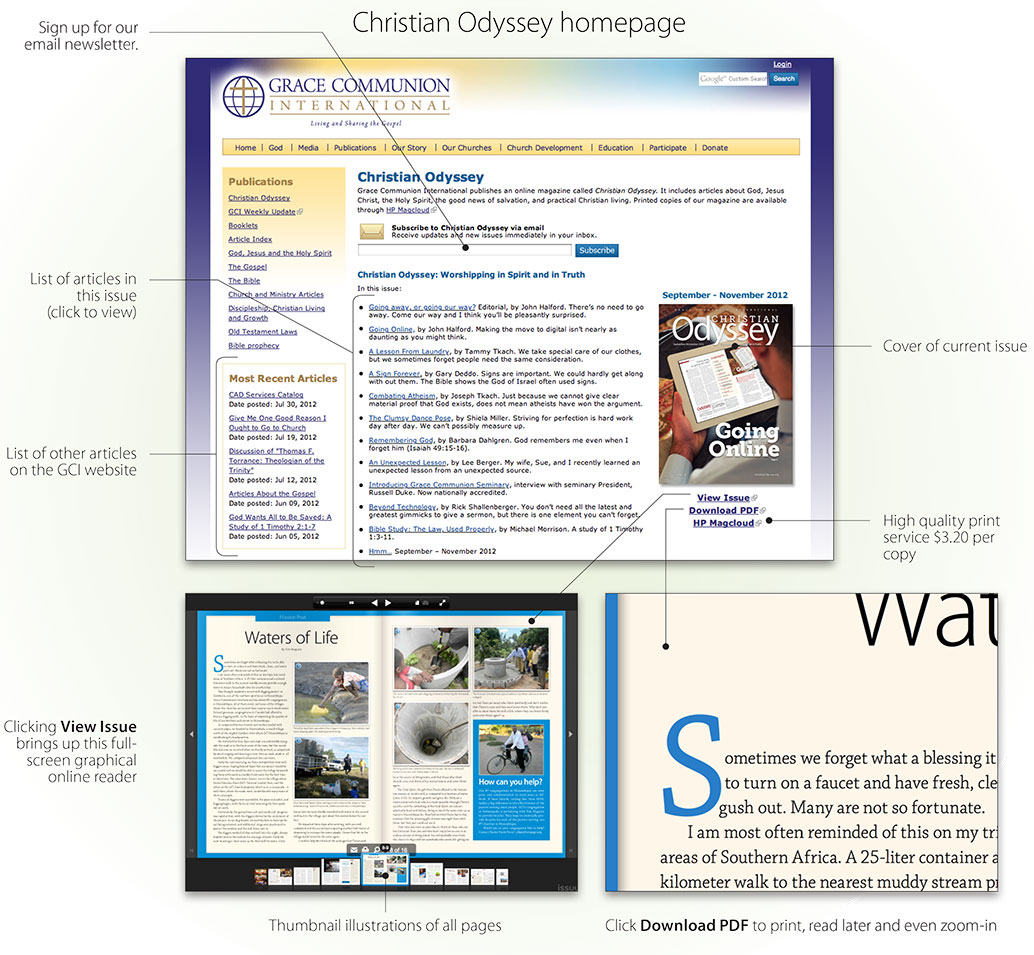 (Click image above to view larger)
Yes, but...
Would you rather read the magazine in a traditional magazine format? That's no problem. Look at the small illustration of the cover of this magazine to the right of the home page. Directly underneath, you will see a short list offering three options: View Issue, Download PDF and HP Magcloud. Each of these allows you to access the magazine in a different format.
Clicking View Issue brings up a full-screen graphical online reader—letting you read the magazine cover-to-cover on your screen. The pages look exactly like the ones you are holding. What many of us like to do when we get a new issue of a favorite magazine is to do a quick survey of the contents. Christian Odyssey online makes this easy. Along the bottom of the screen are thumbnail illustrations of all the pages. Clicking on any one of them takes you to that page.
Perhaps you don't want to read it right away? Maybe you'd rather wait until the grandchildren go home, but you're not sure you can find it again. Or you'd rather not stay connected to the Internet while you read. (That is called "reading offline.") Or maybe you even want to print out something that looks like a "real" magazine.
Once again, it's no problem. That is what the next option is for. If you click the Download PDF* option, the issue will be downloaded to your device as a PDF file. "PDF" is an acronym for Portable Document File, a format that allows you to print what you have downloaded or save it for later viewing offline on your computer or mobile device.
We should mention here that many older readers have told us they find the print magazine hard to read, as the typeface is too small. There is not much we can do about that in the print edition. But one of the advantages of a PDF document is its flexibility. It can be converted to a format that lets you increase the size of the type. It is not difficult, once you know how, but you may need a grandchild to set it up for you.
*PDF files require extra software to be opened. This comes pre-installed on most computers and mobile devices.
*If a PDF will not open, we recommend installing Adobe's free PDF Reader, available at: get.adobe.com/reader
Yeah, but… (again)
"OK. That all sounds good. But I really do just want to get Christian Odyssey in the format I am used to."
Don't worry—we haven't forgotten you. Notice the last option, labeled HP Magcloud. This links you to an on-demand print service. They will print a high quality copy of the magazine and mail it to you. This service is not free. It costs $3.20 per issue, although Grace Communion International does not profit in any way.
Wait—there's more!
Those are the basics, and we hope they are enough to get you online. Please do try it, and compare Christian Odyssey with the printed version you are holding. You will get an up-close-and-personal preview of the future of publishing.
One of the great advantages of an online magazine is that it offers tremendous flexibility. A printed page allows us about 750 words and an illustration or two. But with an electronic version, we can add links that can take you to more information and photographs, and even audio and video.
In a print magazine, the "links" to more information must be made by sending a letter, filling out a coupon, making a phone call or looking up a reference in a book. In an electronic version, these links are already embedded. Additional photographs, audio and even video supplements to the text are just a click away. The printed page springs to life.
We've even set up an easy way for you to print individual articles you might want to pass on to someone else. That's what the Print and Share buttons at the bottom of the page are for.
Finally, when you are finished, the magazine is always available to you online, or you can save a copy on your computer. No more piles of old magazines.
We hope you are beginning to see the possibilities in this new way of publishing Christian Odyssey. The new format does take some getting used to. But, trust us, you will get used to it. Many people who were dubious about Kindles and Nooks now find they prefer them to "real" books.
We will continue to develop and improve Christian Odyssey as an online magazine, as we take advantage of the astonishing technological advances that are revolutionizing the publishing industry. We hope you will join us as we launch into these new and exciting waters.
We don't want to leave you on the shore, waving goodbye. So we hope this article will help you get online.