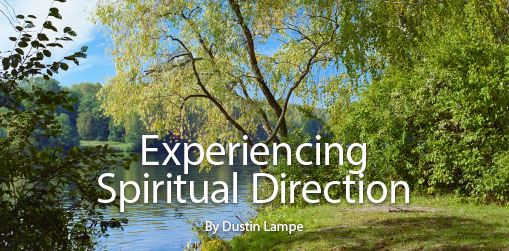 God's love is real, yet the Christian walk is both a roller coaster and a lazy river, thrilling and peaceful. It is both a wild ride and quiet rest. "If God is for us, who can be against us? ... Christ Jesus … is interceding for us" (Romans 8:31bb, 34a, c. English Standard Version throughout). These words of promise are written to remind us that nothing can separate us from the love of God in Christ Jesus (Romans 8:38-39). Yet the man who said this, Paul, also said, "For I do not do the good I want, but the evil I do not want is what I keep on doing" (Romans 7:19).
Paul was in Christ, but was nevertheless a man who still had "sin that dwells within" (Romans 7:20). His life confirms what all of us experience in our personal walks with Christ.  
We relate to Paul and have no problem saying, "I hear you, brother." We groan with frustration and we shout with triumph as followers of Christ on this earth. Christians realize that every bit of triumph comes from the grace freely given by Christ. The faithfulness of the Son works faith in us. The faith we receive from the Son involves what we like to call "a spiritual journey."
I have found a place where we as believers can articulate and share both of these movements in our lives. It is a way that we can get in touch with God and with what he is doing through prayerful encounter with a person who is mature in the faith. Spiritual direction is a practice that helps us experience renewal and learn to be more aware of God's activity in our lives. It helps us get in touch with God.
Far from being a dull work of introspection or examination, spiritual direction helps bring about renewal and awareness. Some of what we discover hurts a little and some of it feels good, but all of spiritual direction is designed to encourage the faithful to press on in their walk with God.
| | |
| --- | --- |
| | Spiritual direction is a practice that helps us experience renewal and learn to be more aware of God's activity in our lives. |
I have been in spiritual direction for more than a year. I currently meet with a wise older Christian (who is trained in spiritual direction) once a month, and during that time I sense God's Holy Spirit moving powerfully. We anticipate God, and he shows up. Through the process, I come in touch with much of what God is doing and much of what I am doing to hinder God. My eyes are often opened to things that I was simply unaware of. It sounds a little funny, but recently I discovered why I was so impressed with the hippie movement (or what it stood for to me). I discovered that I love freedom and I love stepping out of the mainstream, and this has a personal and intimate connection with many of my childhood relationships and experiences. I delighted in this revelation because it showed me how God had wired me, and had been working in me from early on in life to be for "the down and outs in the world." This delight went far beyond words! Does not the most ecstatic intimacy go beyond words? This was my most recent "charismatic encounter."
Spiritual direction is not just for those beginning the Christian life. It is also helpful for those who are mature, those who have a solid foundation and are hoping to build on that foundation. Spiritual direction can play a vital role for those in spiritual leadership. As a spiritual leader, one is confronted with many temptations, pride, vanity, envy, anger, sloth and similar struggles with the flesh. As we seek to share the deep love of God with people in multiple ways, we need to have a deep experience of God moving in and through us. Spiritual direction facilitates and encourages this life-flow from God in ourselves so we are better prepared to share God's love with others.