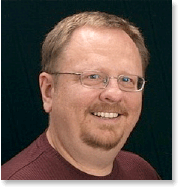 My wife's father died this past month, and I was honored to speak at his memorial service. One of my favorite things to do at a funeral service is to read Ephesians 1:3-14 and insert the person's name wherever the Scripture says "we" or "us." In particular, I love to pause and reflect on verses 4-6, which say, "In love he predestined us for adoption as sons through Jesus Christ, according to the purpose of his will, to the praise of his glorious grace, with which he has blessed us in the Beloved" (ESV).
As I prepared Dad's funeral message, I was tremendously comforted by that truth. "In love, he predestined Charles Campbell for adoption…" Read the scripture and put your name there. How does that make you feel, knowing God predestined you for adoption through Jesus Christ? Paul is reminding us that God has made you his child.
To really grasp the significance of this, we should note once a child was adopted in Paul's day, everything from his or her past was erased. Though a child still had blood connection with his former parents, the legal and familial ties to those parents were severed. The child was to be completely accepted by the adopting family and was endowed with all of the rights, privileges and responsibilities of his new family just as though he was a natural-born son.
So when God says he predestined us for adoption, he is saying he predestined us to be completely accepted, to have our past erased and to be given all the rights, privileges and responsibilities of being a son of God. In other words, he is saying we are predestined to be joint heirs with Christ. "Now if we are children, then we are heirs—heirs of God and co-heirs with Christ, if indeed we share in his sufferings in order that we may also share in his glory" (Romans 8:17).
These scriptures fascinate me and pique my interest in the topic of adoption. God adopts us so he can bring us into relationship with himself. He makes it clear from the beginning of that relationship that we are accepted just as we are and our past is not an issue. He lets us know we don't have to prove ourselves to win his grace; our adoption gives us all the rights and privileges of being one of his beloved. We are adopted for relationship.
This issue of Christian Odyssey is focused on this topic of adoptions and relationships. Our cover story shares Eric and Diane's story of adopting three young girls from Ethiopia. You can also read Tim Poe's experience of being adopted and looking for his birth mother. Nan Kuhlman's article shares how she would often forget that her brothers were adopted.
We also offer you several shorter pieces on the broader concept of adoption with regard to relationship. We include an article on adopting a community; another on adopting an elderly person as a friend and a third on being adopted as an intern.
This issue also introduces a couple of new series. We are beginning a series of articles on the topic of spiritual formation, and we are introducing a new series, "From the Field" written by Regional Pastor Greg Williams. And you will continue to see columns by familiar authors Tammy Tkach and Barbara Dahlgren.
I'm looking forward to serving as your editor. Please let me know your thoughts and ideas on how we can better serve you. Our transition to an online publication has gone fairly smoothly. Christian Odyssey can now be downloaded on most smart phones, tablets and pads. Check out the back cover for more information.
PS. Special thanks to John Halford, who has edited Christian Odyssey for the past seven years. John will continue to serve as an advisor, but most importantly, John is my friend and my mentor. We've shared ministry together in Cincinnati, Ohio, for the past 10 years. I'm thankful for what John has done with Odyssey and I'm grateful for his support and encouragement. May God continue to bless you, John.
Related Articles & Content:
Other articles about this topic: