Have you ever come to a point in your Christian life when prayer and study were no longer satisfying? They used to work well for you, but they no longer seem as meaningful. Many Christians experience that and hunger and thirst for more. They are not quite sure what they want, except a deeper more personal relationship with God. The good news is there are ways to revitalize our relationship with God. There are ways to create sacred spaces for the Lord to enter and help us to abide with him in more intimate ways. Welcome to our series on spiritual formation.
When was the last time you felt hungry? I mean really hungry and you couldn't wait to get a bite to eat. We all know what that mind-body sensation is like. If we don't eat or drink for a long period of time, we are likely to experience serious health consequences.
In Scripture, food is often associated with spiritual values in life. The central observance of the Christian faith is Holy Communion, in which simple food items such as wine and bread carry profound spiritual meaning. John 6:56-57 records Jesus making this amazing statement: "Whoever eats my flesh and drinks my blood remains in me, and I in them. Just as the living Father sent me and I live because of the Father, so the one who feeds on me will live because of me."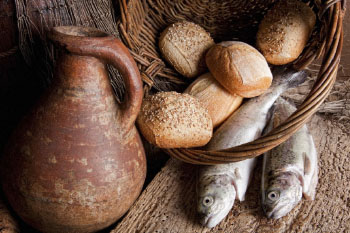 What does it mean to "feed" on Jesus? He gives us an indication as he addresses the church in Revelation 3:20, "Here I am! I stand at the door and knock. If anyone hears my voice and opens the door, I will come in and eat with that person, and they with me." We can feed on Jesus by responding to his offer of entering into intimate fellowship with him. And he tells us that if we remain (abide) in him, we will bear much fruit, for without him we can do nothing of significant spiritual value (John 15:4-5).
| | |
| --- | --- |
| "Here I am! I stand at the door and knock. If anyone hears my voice and opens the door, I will come in and eat with that person, and they with me." | |
So how do we open the door for Jesus to come in so that we can dine with him and he with us? Down through centuries of church history, spiritual rhythms have been employed to sustain and deepen our life-giving relationship with God. Many of them are being "re-discovered" today, and Christians who know and practice them are able to experience the presence of Jesus in new (to them) and spiritually transforming ways. Spiritual disciplines are not another item to check off on our Christian "to do" list. When practiced properly, they flow from the heart of God within us, drawing us ever closer to him. That is why Jesus said, "You're blessed when you've worked up a good appetite for God. He's food and drink in the best meal you'll ever eat (Matthew 5:6, The Message). This appetite leads us to spiritual formation.
Authentic spiritual formation does not happen in a vacuum. It is in the context of community that we develop and mature to the fullest extent. This is reflective of the triune God, whose very nature is communal as Father, Son and Spirit. One time-honored method that has helped many people is the practice of Spiritual Direction. This approach to spiritual formation enables Christians to accompany one another in learning to discern God's present-moment activity in their lives and to articulate ways of appropriately responding to what God is saying and doing. (See the accompanying article, "Experiencing Spiritual Direction," by Dustin Lampe. It provides personal testimony to the value of entering into this kind of relationship with a spiritual director.)
Ruth Haley Barton, in Sacred Rhythms: Arranging Our Lives for Spiritual Transformation, says that the truest thing about us is our desire for God. Are you in touch with your deepest desire? Are you hungry for more of God in your life? This series of articles in Christian Odyssey on spiritual formation and spiritual direction will help you appease your spiritual appetite. Articles will include such topics as: living in the present moment with God, prayer that transforms, spiritual reading of Scripture, embracing and surrendering to the love of God, the gift of being yourself in Christ, and many others.
We hope to not only stimulate a hunger for more of God in your life, but also to satisfy that hunger as we journey together in this series. I believe this is God's desire for all of us. His invitation is to "Open your mouth and taste, open your eyes and see—how good God is. Blessed are you who run to him" (Psalm 34:8, The Message).
Related Articles & Content:
Other articles about this topic: