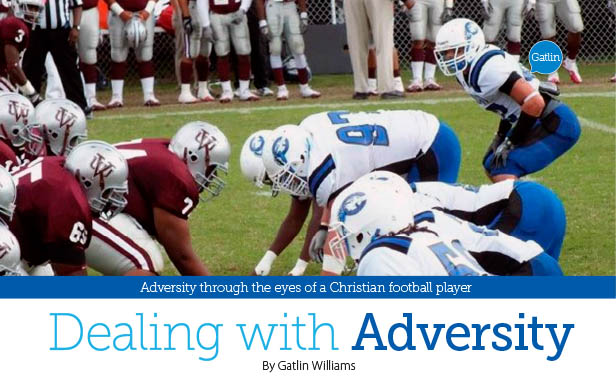 I am currently playing my last season of organized football—when I hang up my cleats I will never play this game again in the same way. As I wind down my football career I look back with lots of great memories. I have played on championship high school teams, and I have the rings to prove it. I have three high school friends who are playing in the National Football League. I've learned a lot over the years, but what stands out the most is the adversity I have dealt with.
First, I have dealt with adversity in my body. By my 8th grade year, my flat feet had become a real problem. Not only had the condition slowed me down, but the pain in my feet was unbearable. My parents and I consulted three podiatrists before we found one who gave me a clear diagnosis. I ended up having two major surgeries and spent almost a year on crutches. The doctor who worked with me through surgery and therapy said that he doubted I would ever play high school or college football. His comment just fueled my drive and determination to keep playing.
I'm not unusual; almost all players in college football deal with nagging injuries. My daily routine includes going to the training room 30 minutes before every practice and every game to stretch and get taped before going onto the field. My trainer told me my body might be 22 years old, but it thinks it is 37 due to the wear and tear.
During my college career I have experienced a broken hand, torn muscle in my knee and chronic pain in my shoulder and wrist. My body has bounced back, but the more difficult situation is that once I was injured, I was dropped from first string back to third string. Coaches don't have much sympathy for injured players' feelings. Their number one priority is winning games, and many injured players attempt to return to the field before their bodies are ready. It is a vicious cycle.
The second biggest area of adversity is dealing with dominant, abusive coaches. Most football coaches have not discovered that in the 21st century, talking reasonably to the players and treating them with respect actually works.
In the 7th grade I was asked to run the ball over and over on the practice team while the larger 8th graders beat on my body. It was especially difficult when we ran the same play over and over and the defense knew it was coming, so the defense teed off on me. Dad had to ask the coach to let me move from running back to receiver.
In high school, just after winning the state championship in Georgia, our head coach left and a new coach came in. The new coach had a different approach and brought in new players. In spite of our record, this coach didn't seem interested in viewing past performance. He had his way of coaching, and the result was many team members were displaced and moved to new positions. It was so rough some guys quit playing football altogether. Being overlooked and pushed to the side is such an empty feeling.
Playing college football has been a different experience. While it has been cool being part of a growing program that has gotten better each year, the competitive nature of the NCAA football program makes football a business. This can quickly take the fun out of what should be, after all, a game.
My head coach is also my position coach. In most cases this would be a good thing, but Coach and I have had a "rocky" relationship. It has taken me four long seasons to understand that he actually cares for me in his own way; but the times he has yelled at me, embarrassed me in front of the team and picked on me are too many to count. For whatever reason, coaches believe that yelling and humiliating players is the preferred way to motivate. I can honestly say that this approach is ineffective, and it left me and many other players feeling frustrated and abused.
Don't get me wrong, I have had coaches that have believed in me and encouraged me. The real upside to football has been the camaraderie built with teammates. Not to mention the scholarship money that has paid for my college education. However, it is hard to shake the negativity of being screamed at and belittled. All you can do is quietly take it. It was hard keeping my composure, and it tested my faith, but I can happily say I gave it my all and overcame. If dealing with bodily injures and belittling coaches is the hardest obstacle I have to deal with in life, I will be just fine. In the greater scheme of things, injures heal and coaches are only dictators for a season. 
The strong positive words of the apostle Paul lift me up and give me an eternal perspective. "Therefore we do not lose heart. Though outwardly we are wasting away, yet inwardly we are being renewed day by day. For our light and momentary troubles are achieving for us an eternal glory that far outweighs them all. So we fix our eyes not on what is seen, but on what is unseen, since what is seen is temporary, but what is unseen is eternal" (2 Corinthians 4:16-18).
Playing football has molded me into a strong person. Facing diversity in my bodily suffering as well as in my emotional suffering has prepared me for future challenges. The most important lesson is that my identity is not in playing football but in my relationship with Jesus and the eternal glory he will share with me.
Photo provided by Gatlin Williams