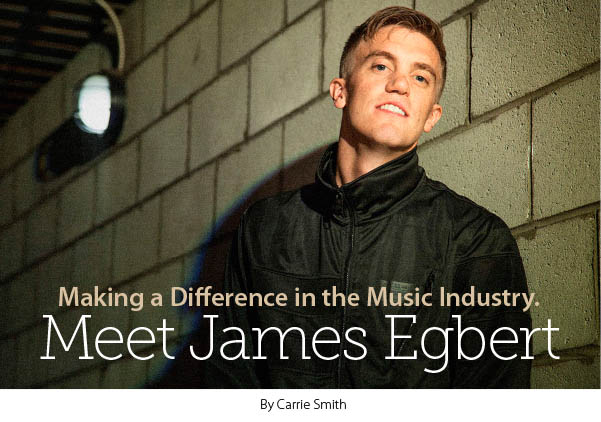 James Egbert is a rising star in the music industry. If you haven't heard of him, you may have heard his music, especially if you're a movie fan. Recently, James' remix of the song, "September," was featured in the movie Last Vegas and he was privileged to attend the red carpet premier in Las Vegas. I recently had the opportunity to talk to James, and when I asked about the movie, he laughed and said, "Yeah, that definitely has 'Hollywood' written all over it, but it was a cool opportunity."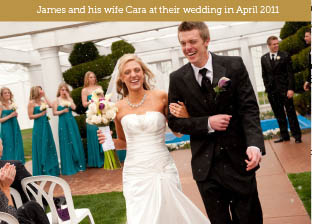 Hollywood is not what James is about. Throughout the interview, James came across as authentic and real. He is who he is, and he appreciates all he has. James, 25, grew up in a musical family that nurtured the passion he has to do something he loves and would always enjoy doing. James said he is blessed to have his family's support and is especially blessed to have the support, love and encouragement from his wife, Cara.
James is an electronic music composer and DJ and has been producing music professionally for about five years; three years producing under his own name. Of his numerous performance locations, he says the Red Rocks in Colorado and The Gorge in Washington are among his favorite because "both are natural amphitheaters and are incredibly surreal because of their natural beauty." Just this past summer James played at outdoor festivals in Tomorrowland in Belgium and at Emmaboda Festival in Sweden. While much of what James is known for publicly has been based on disc jockeying, his main focus revolves around the music he personally creates.
When most people talk about success, they talk about the future, setting goals and working to achieve those goals. While James has goals and is working towards fulfilling them, he looks at success a bit differently. "I have found my biggest success to be when I look back on my career, and I can see that I was always me."
As a young boy, James was constantly worried about offending others and being judged by others, and he wondered how this would affect his career. What he found as he met more people in the music business was that people were more accepting than he anticipated; they were willing to get behind someone who is confident and stands up for his or her beliefs. As part of the leadership team at his local church in Denver, this was important to James. The acceptance of others enables James to go to every show and performance knowing where he stands and knowing he won't compromise. This confidence helps James stand firm in what he believes and often leads to opportunities to share those beliefs with fans and other musicians around him.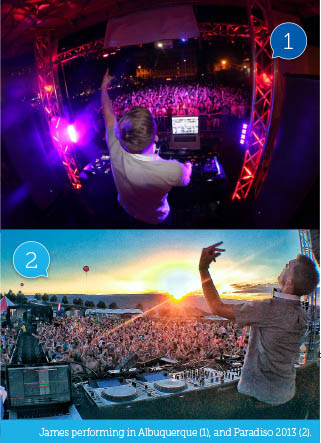 When I asked James how he saw himself making a difference in an industry filled with artists giving negative messages, he emphasized his desire is to "pass on good qualities and virtues" and "to be different than other musicians … especially in the mainstream atmosphere of sex, drugs and rock & roll." "Life is about pedestals," James believes, "and we are all given certain ones." What is important, he emphasized, is how we act on our pedestal. James has chosen to use his pedestal to take extra care of his fans. He wants to have "more than a Facebook connection" with his fans; he enjoys meeting them, hearing their stories and putting faces to internet names.
Through his music and career, James' desire is to "simply show the love of God and have them [fans, others in the business] question that" because this gives him the chance to verbalize his beliefs and passion when he speaks with them in person. He is also choosing to counteract the negative messages sent by musicians and artists today without shouting loudly against them. He simply does "what he is made to do" and allows that to speak volumes.
James' confidence in being who he is has fueled him to be more open with people. He no longer worries about offending others at after-parties and late night hangouts. Instead, James has found he is willing to go deep, knowing that as people come and go in life, you still make an impact in some way.
As we finished our conversation, I asked James if he had any words of wisdom for young people who want to make a difference today. Here is what he shared:
"The amount of pressure by society to 'live into sex, drugs and rock & roll' can be a frightening thing, especially when you are unsure of who you are. What I have found most encouraging is people don't care [about your image] as much as you think they do. They are more excited to see you have a strong stance and backbone. People are looking for integrity and whether you really put your money where your mouth is. Be who you are and allow your actions to back that up. Stand as firm as possible."
James' advice echoes the instructions of Paul in 1 Corinthians 16:13-14, "Be on your guard; stand firm in the faith; be courageous; be strong. Do everything in love." James speaks loudly through his actions, by being who he was made to be and by doing what he believes he was meant to do. We believe his example will continue to encourage and inspire other young artists to do the same.
*For more information about James and his music, you can find him on Facebook (James Egbert), which also provides links to various sites playing his music. In November, James released "Exit Wounds," the first single from his upcoming album The Void.
Photos provided by James Egbert