This year marks an important anniversary in my life. A ten-year friendship-versary with nine special women. Over the past ten years we have navigated the beautiful mess of life, celebrating marriages, new life entering the world, and healing of terminal illnesses. We have grieved with one another through the losses of relationships, jobs, homes, and even the loss of a parent.
Today I was meditating on the crucial role these friends (and their expanding families) have played and continue to play in my life. I was overwhelmed with gratitude and reminded their presence in my life is the result of an answered prayer.
The year was 2003, my sophomore year of college. If I had to sum up my fall semester in one word it would be FREEDOM. Oh the sweet taste of freedom! I had moved past the homesick phase that encompassed much of my freshman year, and was enjoying the ability to make decisions based solely on my own thoughts and desires. After only a few months of "free" living it began to feel stale. Counter-intuitively, the freedom to make my life all about myself made my life seem smaller. Although my social life was blooming, my individualistic approach was also isolating, because I was the only person investing in my future. During this time I began to pray for real community. I wanted more than just "fun" friends to go out with—I wanted friends who would also hold me accountable. Through a series of serendipitous events, I was introduced to this group of girls. I immediately felt welcome and was invited to attend a small group with them. Throughout the rest of my time as an undergrad and over the past ten years, these women have been my prayer partners and cheerleaders.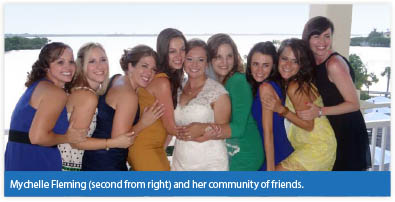 Sacrificing my independent life-style for community and accountability changed my perspective on freedom and shifted my worldview. Society champions the virtues of independent living, but I realized I was not on my own. My best was brought out in community. As my spiritual life developed, I began to see this was God's plan all along. Because our Triune God is a God of relationship, and since we are created in his image, we flourish when we are in communion with one another.
A verse encapsulating the change in my view of freedom is found in the Gospel of Mark. Here Jesus tells his disciples, "If anyone wishes to come after me, he must deny himself, and take up his cross and follow me. For whoever wishes to save his life will lose it, but whoever loses his life for my sake and the gospel's will save it" (NASB). During my sophomore year the majority of my time was spent hopping from one social event to another. Thursday through Sunday was a series of sporting events, beach days, and parties. Although none of these festivities were evil or bad, I began to feel a heavy emptiness in my life. I vividly remember one of my friends informing me the output of my life was a result of where I was investing my time. I realized in focusing on myself and my social desires, I was losing my sense of purpose, passion, and hope, which flourish when I pursue the perfect plans God has for me.
Self-centered living at face value appears satisfying, but a freedom from external constraints leads to internal brokenness, and cultivates a desire to be the god of our own kingdom. A life surrendered to God opens us up to the freedom for the life God created us to live. If we live as if we are God, our illusions will be crushed by the reality of our limitations. When we live in surrender, we have the freedom to bring our desires to God, and are made complete by the fullness of life and power that comes from him.
I have learned the power of community in my life. I am more aware of times I withdraw from community, and I have learned God works in and through the community he plants us in. Like my friend's admonition to re-prioritize my time, God has spoken his truth and love to me through countless other conversations with friends.
Surrender is a daily discipline that creates the freedom God calls us to. Is a relationship consuming the first fruit of your time and energy? Does your career or a dream have your first priority? Whatever it is, ask God to reveal what you are holding back and what you need to surrender. My hope is that you may be filled and overflow onto others as he promises in his word: "Oh! May the God of green hope fill you up with joy; fill you up with peace, so that your believing lives, filled with the life-giving energy of the Holy Spirit, will brim over with hope" (Romans 15:13, The Message)!
Photo provided by Mychelle Fleming