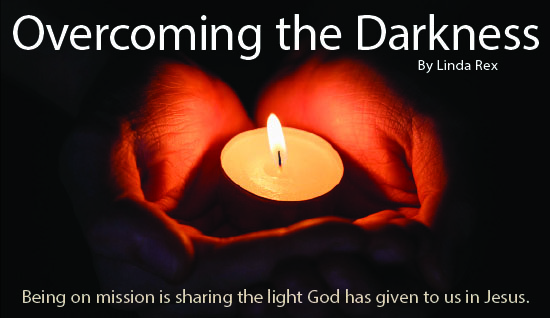 A memory I have from many years ago is of entering a large darkened room, which was lit only with candles. As we entered and took our seats at one of the many tables, my first impression was how the candles set the mood for the whole event.
Each candle was small and the room was filled with dim light. And even though the room was still somewhat dark, it was a different type of darkness. The candles shone enough to give the room a warm, friendly feeling. They invited me to come and stay.
The setting reminded me of Jesus' words in Matthew 5:14-16: "You are the light of the world. A town built on a hill cannot be hidden. Neither do people light a lamp and put it under a bowl. Instead they put it on its stand, and it gives light to everyone in the house. In the same way, let your light shine before others, that they may see your good deeds and glorify your Father in heaven."
I think we sometimes underestimate our ability to impact the world. The darkness is so overwhelming we inwardly scream for someone to turn on the lights. Jesus, come quickly! Come now! We long for him to flip the switch that will eliminate the darkness forever. We look at ourselves and believe all we have to offer is a candle at best. We forget how a candle still offers light and warmth.
As we wrestle with the darkness of pain, suffering, loss, death and sickness all around us, it is easy to wonder where God is in all this. And then we experience a little candlelight from someone—a kind word, a card in the mail, a friend's hug—and all of a sudden, we are transformed. Our mood is lifted. We feel once again like we belong and are at home.
This can be instructional to us as we seek to find ways to reach out in our communities with God's Word of life. We can make going on mission much more difficult than it needs to be. But all we need to know is it is simply sharing the light God has given to us in Jesus. As we go deeper in our relationship with God in Christ and are filled with and led by the light of his Spirit, we glow more and more with the light of God's love.
We are more and more at home in God's presence and naturally will want others to be at home there too. God's love overflows in our tenderhearted concern for others. We are led to find ways to share life with the people around us. And we are encouraged to intentionally include people who may not have previously been included in our sphere of influence. A small gesture of generosity here, a gift of hospitality there, and soon we have changed the whole atmosphere of darkness.
As congregations we are able to shine an even brighter light as we live out our relationship with God in a corporate way. We grow in our communal life in Christ by the Spirit and it begins to flow over into the community around us. As we include others in our corporate life by offering them God's love in little and big ways, we begin to have an impact on the darkness.
We will not be able to fully eliminate it. It's Jesus' job to flip on the overhead lights. But in the meantime, we can impact the world in such a way others can feel like they belong, that they too are at home in God's household. We can, in Christ by the Spirit, change the whole mood of this dark world with the candlelight of God's love, one friendship and one relationship at a time.
Photo Credits: 123RF