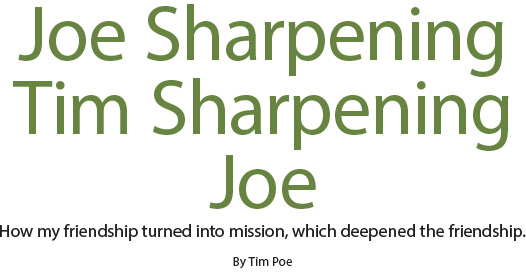 In 2008 I took a six-month internship reporting to a guy named Joe, who has been a good friend ever since. Joe is truly the friend Proverbs 27:17 describes as iron sharpening iron in intellect and in character. He has a big intellect, a big heart and a marvelously wicked wit which are all fantastically appealing to me.
We both enjoy the Socratic method of asking questions that make people think. We frequently illuminate inconsistencies of thought in each other, and call each other out on it. He is one of those guys you just love to be around because he is fun and helps you be a better person.
On a lark, or so I thought, when I applied to work for Joe, on my resume I put down Trinitarian Theology as a hobby. I think it was the first day at work he called me out on it. He told me he was an atheist and asked a few questions. I asked him questions. About 15 minutes later, I told him he wasn't an atheist. He was incredulous. I was confident. I explained he wasn't sure if there is a God or not and therefore he was agnostic and not an atheist.
One thing Joe is not used to is losing an argument, so it has been "on" ever since and we both thoroughly enjoy it. I owe much of my success in my professional career to him.  He has taught me many things;  the most valuable to me is what I've learned about personal ministry and personal mission.
Being missional isn't about selling vacuum cleaners or products to supposedly make life better, so we should have no expectation of trying to "hook" people or pull a "bait and switch." Trying to be clever so others don't know what "hit 'em" is not what personal ministry is about. It's about making friends like Joe.
Joe told me I am the most dangerous kind of evangelist. I told him that's because he couldn't win an argument with me (not true—he often wins). He countered, saying it's because I care for him and I am able to articulate a theology about loving people rather than the standard bad news gospel (separation theology). I'm glad I was talking to him on the phone because I wouldn't have wanted him to see me tear up.
Personal ministry is about making friends and having mutually safe conversations about God, life, the universe and everything. It is about enjoying other people's company. It is about sharing life with your friends. I told Joe I was going to write about our friendship and he said he felt like he was my personal mission in this sense and hasn't felt like a customer. Joe is still agnostic and though he wants to believe, he can't yet theologically justify belief to himself . I'm fine with that and he is too. I think we both agree that is God's problem to fix. I can't tell you how much I look forward to our next conversation, whether theological or professional. I know I'll walk away a better man for it.