Vol. 4 No. 4 July-August 2009
Connecticut member honored by bar association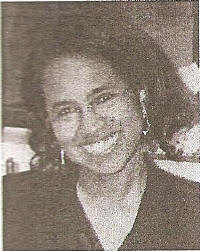 At the 2008 annual meeting and dinner of the New Haven County Bar Association in Hamden, Connecticut, Amina Connelly (member in Stratford, CT) was a recipient of the Yale Sappern Civility Award. The award "recognizes a New Haven area lawyer, judge or court staff person who strives for excellence; is courteous to clients, colleagues, Court and staff; and helps others by listening and providing guidance."
Amina grew up in New Haven, graduated summa cum laude from the University of New Haven in 1993 and earned a Juris Doctor degree from Columbia Law School in 1996. She has been a member of the Connecticut bar since 1997, and in 1999 was appointed caseflow coordinator of the civil division of the New Haven Superior Court Clerk's office. She chairs the advisory council of the Stratford church.
Larry Wooldridge
Air Force veteran speaks in local school
Bill Hicks, member and deacon of the Pittsburgh, PA, church, spoke at a local high school about his experiences as an African-American serviceman during World War II. Bill is 88 years young, and has been a member for 49 years. He owned a television and radio repair business for many years, and is a sound engineer for the Pittsburgh church.
Tom Smith
Atlanta church launches new outreach
On Saturday, April 4, Living Hope Christian Fellowship (the Grace Communion International congregation in College Park, GA) launched a new community service called the College Park Job Seekers (CPJS). The goal of this faith-based ministry is "to assist area job seekers with practical, emotional, and spiritual support during this difficult economic downturn." CPJS serves the unemployed, the under-employed, the "working worried," military spouses, or those considering a career move. The ministry is open to people of all faiths, male and female, and meets the first Saturday every month from 9:00-11:30 a.m.
In our first meeting, we were pleased to welcome a diverse group of 15 guests, representing two states and three counties. Visitors were greeted with an array of refreshments including fresh-baked carrot-cake squares, warm quiche, hot coffee and Russian tea, all compliments of our pastor's wife, Deborah Young. The meeting opened with a moving testimony by Suzanne Smith-Wigfall, who shared her testimony of being downsized via a public television announcement a few years ago.
Terry White, a manager with The Home Depot in Atlanta, presented a piece entitled "Trust God" during the meeting's segment called "The Spiritual Tool Box." Terry's own story spoke to the plight of a lot of men: After a 13-month job search (in 2001-2002), he found a job at The Home Depot and moved from Iowa to Atlanta. Terry, a strong Catholic, now proudly shares that, "My job loss and subsequent job search were God's tools for leading me into a relationship with him."
The last speaker was Linda Wells, former Fayette County Commissioner and President of MoneyConcepts. She gave a very informative and funny presentation during our "Job Search Strategies" portion of the meeting. Her presentation was entitled "If it's true, it ain't bragging" — the do's and don't of resume writing. Job seekers learned new resume techniques applicable for today's job market. The meeting concluded to allow job seekers time to network, share cards and place their resume and contact information into an official data management bank.
It is clear from the compliments to the chef, appreciative comments from people in attendance and inquiries posted on electronic chat boards, that Living Hope Christian Fellowship is centrally located and well positioned to offer this type of community service. Facilitator Norma Manuel told several attendees that "we are a small church attempting to do big things" in his service.
Norma Manuel
Journey With the Master retreat
The mountains of western North Carolina were a beautiful backdrop for the second retreat (intensive) of Journey with the Master with the young adults who volunteer as leaders and workers in Mountaintop and Higher Ground, Generations Ministries (GenMin) camps. Eighteen young people participated in the event at the Outdoor Mission Camp in Maggie Valley, NC, on February 13-15.
Journey with the Master is a three-part GenMin training event designed for young emerging leaders. GenMin leaders Greg Williams and Anthony Mullins led the group in assessments and teaching designed to help attendees better understand their unique "divine design" as it relates to ministry, relationships, and educational and career choices.
The weekend began with taking a fresh look at the Parable of the Lost Son followed by a discussion about the stunning truth of God's unconditional love for all. From there, participants were assessed and then discussed leadership styles, relational styles and life development goals. The fun continued on Saturday evening as many participated in night skiing and snowboarding at the Cataloochee Ski Resort.
The retreat concluded by inviting hosts, Ruffin & Jamie Shackelford, to share the inspiration behind the Outdoor Mission Camp which they started together. It was truly inspirational to hear a story of the Spirit's guidance and their desire to follow and answer the call in their lives.
Anthony Mullins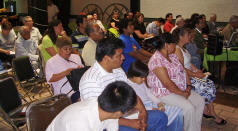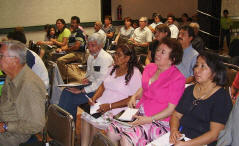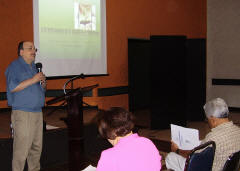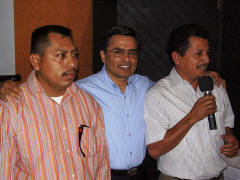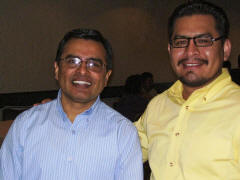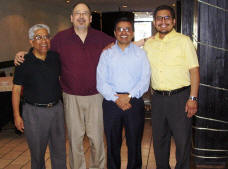 Alfredo Mercado, national pastoral team leader and pastor of the Guadalajara congregation; Lorenzo Arroyo, regional pastoral leader in the western U.S.; Hector Barrero, Mission Director for Latin America; and Tony Almanza, district pastoral leader and pastor in Denver, CO.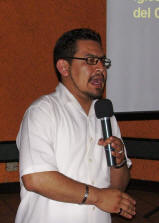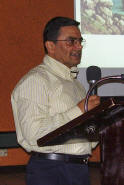 National Pastors Conference in Mexico
On April 10-12, our Mexican national conference of pastors and leaders was held in Guadalajara, Mexico. This year's conference focused on church renewal and church planting. More than 40 pastors and leaders from Tijuana to Veracruz attended the training. Hector Barrero, mission developer for Latin America and pastor of our Bogota church in Colombia, led the conference along with Alfredo Mercado, Mexican national leader and pastor of the Guadalajara congregation.
One conference goal was to share in the vision and resources provided by Church Administration & Development and Church Multiplication Ministries (CMM). The instructors participating in the training along with Hector Barrero were Lorenzo Arroyo, regional pastoral leader and CMM team member, and Tony Almanza, district pastoral leader and pastor of our Denver Hispanic congregation. The training keyed on topics and concepts such as forming multiplication leadership, growing a church through cell groups, ministry boundaries in a Trinitarian theological framework, reaching the next generation through culturally relevant worship, and much more.
The conference was the fulfillment of a long-awaited plan. Many of the pastors and leaders expressed gratitude for the teaching and materials. For most of the pastors, it was their first introduction to church renewal and church multiplication. Dan Rogers, superintendent of pastors in the USA, and Randy Bloom, director of CMM, were acknowledged for their roles in reaching outside the USA to provide vision, instructors and resources of ministry principles that are contextually applicable almost anywhere.
Among the highlights at the conference was the admission to our Mexican conference of a new congregation in Tlaxcala planted by five-time church planter Jose Luis Seba. The church in Tlaxcala, near Mexico City, was launched in August and sponsored by Tony Almanza and the Denver Hispanic church. Pastor Jose Luis moved back to Mexico a couple of years ago after attending the Denver Hispanic church. He planted four other churches before joining the Denver congregation.
Pastor Nicolas, who leads an independent church, accompanied Pastor Jose Luis to the conference as a guest. Toward the end of the conference, Pastor Nicolas also addressed the pastors and conveyed his interest to join, but he first needs to consult with his congregation in Hidalgo.
We had the privilege of meeting the Mexican national pastoral team, which is comprised of three pastors: Alfredo Mercado, Ruben Ramirez and newly appointed Vicente Dimakis. One of Hector's key objectives for the conference was to begin to create a closer bond between the Hispanic pastors in the USA and our Mexican denominational leaders and pastors. This conference served as a pivotal starting point in making that bond a reality. Thanks were given to Joseph Tkach and the Los Angeles area Hispanic pastors for helping to fund and sponsor this effort.
Lorenzo Arroyo
Easter celebration in Mesquite, TX
Pathway of Grace church celebrated the Easter season with worship, fun and fellowship. On Maundy Thursday, April 9, the congregation met for the traditional footwashing and Communion service, patterned after what Jesus did on the night before he was crucified. We commemorated Jesus' death and that he is the Bread of Life.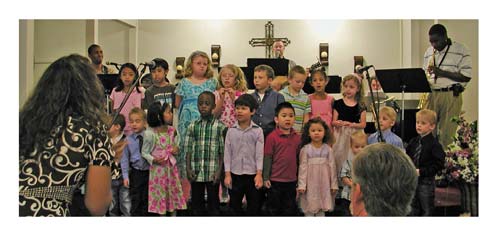 On Easter, April 12, the church had numerous visitors for a celebration that included a hot dog and hamburger luncheon, fellowship, gift bags for children ages 10 and under, and an Easter egg hunt for the same age group. The rainy weather required outdoor activities to be moved indoors, but that did not dampen anyone's spirits. The church posted a large, colorful sign in front of the building to announce the service and festivities, encouraging the public to attend.
Pastor Bob Persky spoke of how we are alive with Christ. "Jesus is alive!" he said. "His tomb is empty and he's risen. Jesus wants to share his resurrection with us."
Elder Ben Martinez gave the communion message recalling that just as the disciples on the road to Emmaus at first did not recognize that the resurrected Jesus was with them, he is constantly with us even though we sometimes don't realize it.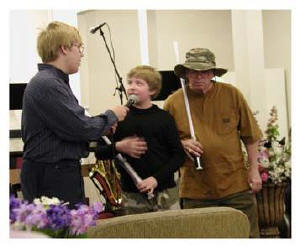 A humorous drama written by Frank Lewandowski was also part of the service. "Live From Jerusalem: Eyewitnesses to Jesus' Resurrection!" The drama showed a modern-day news reporter (played by Matthew Hard) reporting from Jerusalem on the astonishing events that had taken place there, including the crucifixion of Jesus followed by the sudden disappearance of his body and rumors of his resurrection.
He interviewed sisters Mary and Martha (Stella Sloan and Frances Quigley) and the apostle Peter (Nathan Hard) as friends of Jesus who had seen him die on the cross. They were amazed three days later by the empty tomb, then by the resurrected Jesus appearing to them.
The reporter also spoke with two Roman soldiers (Michael Schnee and Leo Burnett) who at first claimed Jesus' disciples had stolen his body while they slept. But their testimony disagreed as one of the soldiers confessed they had been paid a large sum of money to say those things. The reporter tried to coax a reluctant Pontius Pilate (Wiley Bass) to comment on rumors of a cover-up of what really happened. Pilate hurried off, claiming he had already washed his hands of the whole matter.
Rounding out the story was an interview with the former "Doubting Thomas" (Bruce Hard) who described how he became Believing Thomas when Jesus appeared and told him to touch his wounds. The tale depicted the reporter originally being skeptical of the believers' claims but starting to become convinced of the truth by the end of the skit.
 Frank Lewandowski

Surprise party for pastor's 80th birthday
On April 12, we had a surprise 80th birthday party and Pastor Appreciation Day for Zita Mickens, Senior Pastor at Grace of God Fellowship, Tucson, AZ. For once, we actually managed to surprise her! Special guests Curtis and Jannice May made the festivities more special. Our kitchen crew decorated and served dishes contributed by members from our congregation. Many brought cameras to capture the event, and a video was made by Lucy Gardner.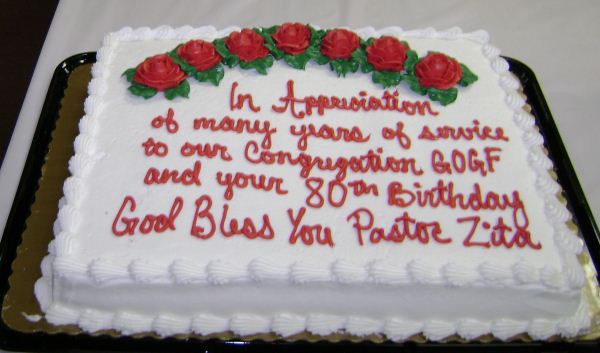 There was a huge cake, a bouquet for Zita's birthday and a huge arrangement for pastor appreciation. There was background music playing a CD by Cece Wynans, one of Zita's favorites. Many people added their thoughts of appreciation for Zita. Curtis May, Ted Millhuff and Jim Mullady prayed over Zita at the conclusion of the event. This was a true tribute for one of our own who has served God with her whole heart by serving his people. Sadly, Zita has needed to resign her responsibility as senior pastor due to ill health. Everyone shared the sentiment: "God bless Zita as she continues her life's journey in another capacity."
Lila Millhuff
National conference for new churches
April 20-23, fifteen representatives of Grace Communion International attended the Exponential Conference in Orlando, FL. Exponential is an annual conference for ministry leaders who start new churches and the people who train and support them.
The truth of Jesus' words "I will build my church, and the gates of Hades will not overcome it (Matthew 16:18)" became evident in the seminars presented during this three-day event.
The theme of the conference was Acts 17:27-28: "God did this so that men would seek him and perhaps reach out for him and find him, though he is not far from each one of us. 'For in him we live and move and have our being.' As some of your own poets have said, 'We are his offspring.'" It was inspiring to realize that this theme, and the content of many of the plenary and workshop sessions, coincided with our Trinitarian theology.
I highly recommend that any district pastoral leader, senior pastor and ministry leader attend next year's conference. It will provide insights, encouragement, ideas and resources for starting new churches. Attending Exponential has enhanced my vision for church multiplication in GCI. The sense of hope and expectation provided by Exponential will help bring into reality our dream to start a church multiplication movement within GCI.
Greg Williams, a GenMin camp ministry and event leader, said: "The conference was an explosion of ideas. A big concept for me was the global movement of the church—it has many faces, spices and flavors. I believe the time is ripe for GCI. With an inclusive, Christ-centered theology, the next logical step is church planting and replanting. I anticipate refreshing times for the newly named GCI. The perfect storm is gathering. I'm committed to helping GenMin camps plant churches where the Spirit gathers the right people."
As one speaker stated, we are not alone in the process of starting new churches. God is faithful. His directional and relational nature is always moving. Our part is to courageously surrender to what he wants to do.
Next year CMM hopes to encourage another group to attend the Exponential Conference. The dates are April 20-22, 2010. This conference is open to anyone, so please consider sponsoring your pastor or district pastoral leader to attend. To learn about this conference go to www.exponentialconference.org. For information about starting a new church, contact Randy Bloom at randy.bloom@gci.org.)
Larry Hinkle
Senior pastor ordained in northeastern Ohio

On Sunday, June 7, David Botha was ordained an elder in Grace Communion International and installed as senior pastor of GCI's Cleveland and Akron/Canton, OH congregations. The twin ceremonies were held in the Cleveland church worship service where members from both congregations were present.

David began employment with GCI and tenure serving these two congregations about six months ago. This ceremony confirmed through ordination his calling as an elder, and through appointment his ministry as a senior pastor in this setting. In the ordination ceremony, which was conducted by Ted Johnston (GCI ministry developer and David's mentor) and John Dobritch (GCI district pastoral leader and David's supervisor), David was joined by his wife Lynne and daughters Margaret and Madeline. In the installation ceremony, ministry leaders from both congregations joined Ted and John in praying for David in his continuing service as senior pastor.

Ted Johnston
Teens help raise funds for famine relief
On April 25-26, nine teens led the way by participating in the World Vision 30 Hour Famine fundraising project by going without food for 30 hours. The teens made signs and marched in downtown Bellevue, WA, bringing awareness that 26,000 children under the age of five die every day due to starvation and disease caused by malnutrition.
The youth ministry and many of the members of the Seattle/Bellevue and Everett churches all supported the youth by participating in the fast and by donating $2400 to the cause. The teens made cookies and helped serve 130 people to dinner provided by the church at the Seattle Homeless Shelter. They began eating again at a potluck meal provided by the Everett members after services on Sunday. Food never tasted so good!
Bill Miller