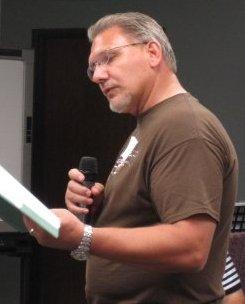 By Greg Williams, program coordinator
Jeb Egbert, Dennis Wheatcroft, Keith Brittain, Ted Johnston. Why this list? Because these and a few other men have played important roles in my life as my mentors. Like all good mentors, they have taken time to speak wisdom to my head and demonstrate love to my heart. They have included me in the rhythms of their busy lives—their work, family and relationship with God. These men believed in me, shared the resources of their lives, and opened doors for me to move into places of greater opportunity. I owe them a debt of gratitude for building confidence in my spirit and helping me become the person that I am.
Following their examples, I was privileged during my 15 years as a pastor to mentor four young people who were experiencing God's call to pastoral ministry. Though different in personality and gifting, each demonstrated love for Jesus and a strong desire to make him known to others. I was happy to allow these young, energetic ministry candidates into my professional and private life for the sake of sharing in the work Jesus is doing to multiply pastoral leaders. I treasure the times we shared, and God blessed our relationships. However, I lament that there wasn't a more organized system at the time to guide our mentoring/interning work.
Four years ago, I stepped out of the pastorate and joined the leadership team of GCI Generations Ministries (GenMin). Even though I no longer serve as a church pastor, I continue to pour myself into the lives of others coming along behind me. The configuration of the GenMin leadership team demonstrates how this works. My mentor, Ted Johnston, is ten years ahead of me in age and experience. Then I am mentoring Anthony Mullins, who is ten years behind me. This mentoring "chain" reflects a wonderful mix of friendship, giftedness and accountability. We did not design the chain (we aren't that smart!)—God put us together and we've tried to be faithful to what he is doing.
A continuing concern we have in GCI denominational leadership is to provide for the mentoring of young emerging leaders to pastor existing churches, start new churches, and provide leadership for denominational ministries. Dan Rogers, director of Church Administration and Development (CAD), led the way in addressing this concern by teaching about our participation in Jesus' movement of ministry multiplication. In response, GenMin began about four years ago offering a mentoring seminar. Out of that came Servants Passage — a two-year long "journey" that facilitates peer-based ministry mentoring and equipping.
Then over the last several years, the growth of GenMin's camp system has trained dozens of young emerging leaders. GenMin then launched Journey with the Master (JWM)—a journey of discovery and connection with Jesus and his ministry (you can read more about this at our website: http://genmin.gci.org/leadershipministries.htm).
These and other GCI initiatives are discovering many young emerging leaders who are hearing God's call to pastoral ministry and church planting within GCI. We thank God for this! But how shall we respond? It has become clear that we need to provide these young men and women with focused mentoring. And so we are now launching the GCI Pastoral Internship Program.
I have been asked to serve as program coordinator on behalf of CAD. The program team includes Dan Rogers (CAD director), Charles Albrecht (CAD Operation Manager), Randy Bloom (CMM director) and Ted Johnston (GenMin director). The team will provide mentoring tools and training; identify, equip and coach GCI pastors who want to serve as mentors; and seek out dedicated, available and gifted young men and women who sense the Spirit's call to GCI pastoral ministry. We will seek to provide pastoral internships for these young emerging leaders—connecting them with seasoned GCI pastors who will serve as their mentors. In some cases (as income allows), internships will come with part-time employment.
If you are a pastor who is interested in serving as a mentor in the pastoral internship program, or a young leader interested in becoming a pastoral intern, you are encouraged to contact me at Greg.Williams@gci.org.
For further details about the internship program, click here.
If you or your congregation would like to provide financial support for the new pastoral internship program, you are encouraged to donate to the GC Next mission fund. Make checks out to Grace Communion International, and indicate on the check that the donation is for the "GC Next fund." Mail checks to:
Grace Communion International
PO Box 5005
Glendora, CA 91740-0730