GCI home office serves the denomination in many ways. Much of the work directly supports local congregations in their pastoral, accounting, and legal needs. Another important aspect of the work is done by the Media Department. Here are some details for the year 2009:
Publications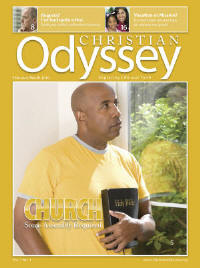 In 2009 GCI Media published five issues of Christian Odyssey—almost 78,000 copies. The magazine's mission, as seen in its masthead, is "Exploring Life and Faith." We feature articles on practical Christian living, explanations of basic beliefs of the Christian faith, with Bible studies, book reviews, interviews, and other interesting and practical helps for Christian life.
Our current circulation is about 15,000—plus another 2,500 in Australia—but the value of Odyssey extends far beyond the printed copies. That's because our previous issues continue to be available for the general public on our website, and search engines enable thousands of people to make use of the resources we have. Exact user statistics are impossible to obtain for the website, but we do know that Odyssey web pages were viewed more than 700,000 times.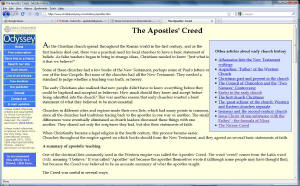 The most popular article is "The Apostles' Creed," published in 1999, viewed 29,000 times. Most of these visitors find out about the article from search engines—if they type "the apostles creed" into a search engine, our website will be on the first page of results.
Our second-most popular article is "Evidence of Black Africans in the Bible," which we printed in 2007. If people search for "blacks in the bible," which many do, our article is likely to be at the very top of the list. The third article is "Easter in the Church," from 2006.
The most popular article published in 2009 was "Creation and Evolution," in the February-March issue, followed closely by the cover article of the next issue: "We say goodbye, but then what happens when we die?"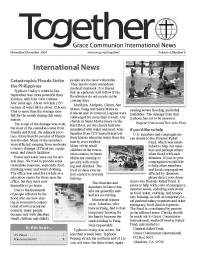 We published six issues of Together: Grace Communion International News, for a total of 64,000 copies. There were 61,000 pages viewed on the Together section of our website. The most commonly viewed file was the PDF format of the July issue—many people wanted the entire issue.
We published 12 letters from Joseph Tkach, which were sent to donors, for a total of about 79,000 letters.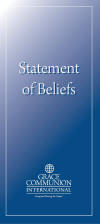 We also published two booklets: Statement of Beliefs of Grace Communion International and A Brief Introduction to Trinitarian Theology. These were sent to all members, and the theology booklet is being promoted on our video programs.
Website
Although the website is in the domain of the Informational Technology department, much of the content of the website is produced by the Media Department. (The website is in the process of being redesigned, and www.gci.org will soon be our official domain, although it will take many months to move all the articles to the new location.) Here are the 2009 statistics for our website: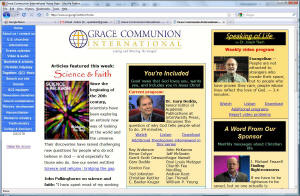 There were 2 million visits, during which a total of 9 million pages were viewed. The busiest month was April; the busiest day of the week was Tuesday. Most of the visitors were from the United States, followed by Australia, Canada, Germany, Britain, and South Africa. Most visitors used Internet Explorer, but 25 percent used Firefox, and 7 percent used Safari. Nearly half of the visitors came from search engines; 43 percent went directly to the site. Eight percent came from other websites, such as www.biblical-art.com.
The most popular articles are shown in the box below. It is interesting that the top two are about women. Many people find our site by searching for "book of ruth" or "proverbs 31."
The website also provides visitors with an easy way to refer an article to a friend. The number of people using this feature has doubled in the past year. As we might expect, the most popular articles are frequently the most-recommended ones, but other articles are commonly referred to a friend, too:
What the Bible Says About Wine
What the Bible Says About Speaking in Tongues
Parable of the Lost Son (Luke 15)
Is Tithing Required in the New Covenant?
Should Christians Celebrate Halloween?
Alphabetical List of Articles on This Site
Getting a Grip on Repentance
Is the Sabbath Required for Christians Today?
How to Resist Temptation
Fasting: A Small Group Discussion Guide
To see what is new on our website, sign up for our weekly email.
Speaking of Life
(top ten programs of 2009)
Beginning of time

Six-day creation?

New names

Universalism

Christmas

Satan

Trinitarian theology

God knows you

Creator of Evolution?

The stuff inside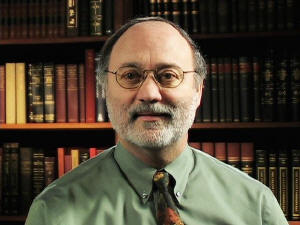 Electronic media
Our video department, with a staff of only two people, produces four video series, plus a variety of other electronic media products.
Speaking of Life, a weekly series of short messages by Joseph Tkach, had 52 new programs. They, and the previous programs still on the website, were accessed 134,000 times. The program viewed most often in its first eight weeks was "Beginning of Time," which noted that both the Bible and science say that time had a beginning.
Almost 30 percent of the users preferred the audio version; about 9 percent downloaded a file to create a DVD copy—perhaps to share the program with friends who do not have internet access. You can see the options at www.speakingoflife.org.
You're Included is the next-most popular video program—it features half-hour interviews with Christian leaders, writers and theologians. In 2009, we added 19 programs, including interviews with Elmer Colyer, Gerrit Scott Dawson, Gary Deddo, Gordon Fee, Ted Johnston, Christian Kettler, Jeff McSwain, Paul Louis Metzger, Roger Newell, Cherith Fee Nordling, Andrew Root, and Dan Thimell.
The most popular program, as measured by the number of viewers in the first eight weeks, was Gordon Fee, followed by Gerrit Scott Dawson and then Gordon Fee's daughter, Cherith Fee Nordling. We continue to get a good number of views on our 2008 interviews with William Young, author of The Shack. About 33 percent of users chose to listen; 8 percent downloaded the DVD file.
We conducted several more interviews in February 2010 at a conference in Scotland, and we plan to share those programs with you on a bi-weekly basis. To see all of them, go to www.youreincluded.org.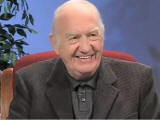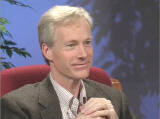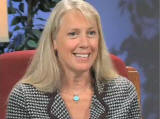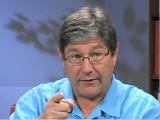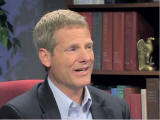 Gordon Fee, Gerrit Scott Dawson, Cherith Fee Nordling, C. Baxter Kruger, and Jeff McSwain
GCI Together is a series of interviews with personnel in GCI, including mission developers in other nations. We posted one program each month, featuring the following people: Randy Bloom, Charles Fleming, James Henderson, Ted Johnston, Santiago Lange, Curtis May, John McLean, Gary Moore, Mat Morgan, Michael Morrison, Pat Shaw, and Tammy Tkach. People watched or listened to these programs more than 18,000 times. See www.gci.org/media.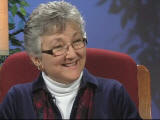 Pat Shaw, CAD Budget Analyst
In late August, we also began posting on the website a series called A Word From Our Sponsor. This is a series of messages from the Bible ranging in length from 15 to 30 minutes, given by J. Michael Feazell, Dan Rogers, and Michael Morrison. The first four programs logged a total of 8,000 uses.
Our goal
The motto of Grace Communion International is "living and sharing the gospel." Our publications and our electronic media serve as resources for members, pastors, and the general public to help people come to a better understanding of God's unconditional love for us manifest in Jesus Christ and ministered to us through the Holy Spirit. In as many ways as possible, we want to make the good news easy to understand and easy to share.
Michael Morrison
Feedback From the Users
We send out a short email to about 4,500 people every week letting them know what is new on our website. Because so many people have this email address, we get a lot of email in return. Some of it is in response to materials we have placed on our website. Here are some recent comments:
I'm very happy to read your document. My skill in English is not well, but with an English-Vietnamese dictionary, I can understand what you want to share. We need this knowledge in building our church, a small church in Ho Chi Minh City, Vietnam. Would you please continue sharing your experience to us?
A thousand kudos to the staff, who faithfully serve all of us each week. I look forward to every Friday morning's updated GCI webpages, which keep our local congregation "connected." They start my day in preparing our Sunday bulletins. And, f.y.i., the Speaking of Life programs are also regular features during worship services. My sincere appreciation and thanks to you all.
We are focusing this year on our use of the Apostles' Creed during Lent at our Presbyterian Church in North Carolina, a congregation of 250 worshippers. Through a Google search I came across your website and I would like to reprint the article on the Apostles' Creed, pointing people to your website, of course. I appreciate the article's simplicity and utility.
We'd like permission to re-print 10 copies of "Church: Some Assembly Required" for our church leaders. This article will help us, as seven leaders have left our church for conflict reasons. I'd love to share this article with the bishop and leaders. Thanks.
I would like to print the article "Black History Month: An Interview with Curtis May," for my church students. We are studying black history, and I think they perhaps should understand the origin of black history month.
I work with CBN Asia in the Philippines. I would like to ask if it is possible, with your permission, to use the image "Sermon on the Mount" (Matt. 5:1) in one of our fundraising premiums to our donors.
I am a chaplain for the Veterans Healthcare System in Arkansas. I read your pamphlet entitled, "Five Simple Rules for Bible Study" and found it to be uncomplicated and very understandable. We often have veterans here who have made a commitment to Christ, but don't know where to go from there. How can I get copies of your pamphlet that I can give them?
I am the chair of the outreach committee at our church. Can we use your article "Sharing Your Faith" in our church bulletin? We'd like to make 150 copies. Thank you for posting it on the internet!
I was reading the article on your website entitled, "Growing in Christ." I would like to make 20 copies of this article for our discipleship program attendees. I like to provide them with a Christian help each week and I thought this article would be very helpful. These would be given out free of charge.
I was reading the article on your website entitled, "Growing in Christ." I would like to receive your permission to make 20 copies of this article for our discipleship program attendees. I like to provide them with a Christian help each week and I thought this article would be very helpful. These would be given out free of charge.
Related Articles & Content:
Other articles by: