This update is from Rod Matthews, GCI mission developer in Southern Asia and the South Pacific.
SEP India
This report is from Daniel Zachariah, GCI's pastor in Hyderabad, India.
Jesus places a special value on children. His love for them was undeniable when he took them up in his arms, put his hands on them and blessed them, saying, "Let the little children come to me, and do not hinder them; for the kingdom of heaven belongs to such as these" (Matthew 19:14).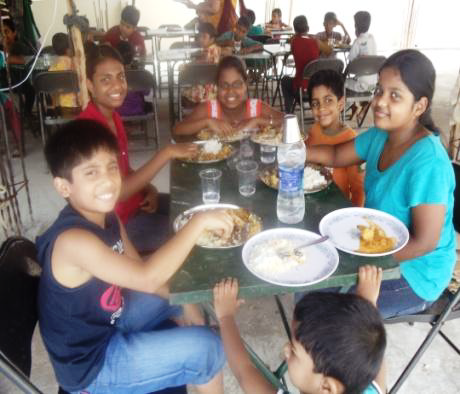 Encouraged by his example, we had the unique privilege of loving and blessing many children last month. We held a residential camp where 27 children, ages five to fourteen, attended from May 11 to 13. Several children from nearby villages joined the camp. We had them all take residence in our church premises for the three days. Members volunteered to provide food for all the children on these days. The picture at right shows a few of the children enjoying a meal.
From morning until bedtime, they were tirelessly and enthusiastically involved in all the activities. Stephie, Celina, Saritha and Prasanna were our residential counselors, teaching them Bible lessons, songs, crafts, dance and games.
Vanuatu Building Project
This report is from Rex Morgan, GCI's national coordinator for Vanuatu and the New Zealand office manager.
In 2010, New Zealand member and builder Les Evans began construction of a building at Rory, the Vanuatu village on the island of Malekula where our main congregation is located. Les previously supervised the construction of a new meeting hall and a large concrete water tank to give the church facility water self-sufficiency. The new building was originally planned to include a workshop for fabricating furniture for sale to provide additional income for the church community. It was also to be used for tool storage, a community function room, the church library and a place for visiting ministers to stay.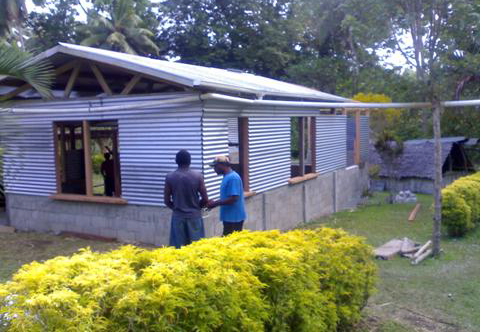 A perennial problem has been the lack of building materials in this remote location. Fiji pastor, Isei Colati, went to Vanuatu in late 2011 as a guest speaker at their family festival, with the added goal of taking a further step toward completing the project but, alas, the same problem prevented any progress.
In a review of its purposes, it has become obvious that making furniture for sale isn't feasible because of difficulties in getting quality raw materials and then finding a market on Malekula and nearby islands which are remote from the capital, Port Vila. But the most pressing need is for a place for visiting ministers to stay to save the church considerable accommodation and transportation expenses. Vanuatu pastor William Davies, who lives on the neighboring island of Espiritu Santo, will be able to use it on his bimonthly trips to Rory, and Rex Morgan and other visitors can use it during the annual festival.
Amazingly, further research has shown that it is less expensive to purchase the materials needed to complete the building from hardware stores in Fiji and have it shipped to Malekula in Vanuatu, so Isei Colati has organized this. The cost of $3,500 for needed materials is exactly half of the amount put aside by the congregations in New Zealand for "Vanuatu Outreach" in 2012. The Fiji church has kindly offered to help pay for another trip to Vanuatu by Isei Colati to help organize the project. The members are now assessing gardening and farming ideas to help the church community become more financially self-sufficient.
Related Articles & Content:
Geographic Region: