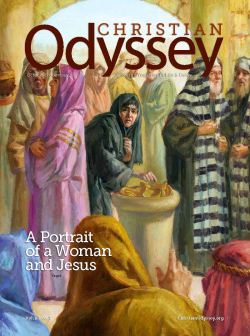 Editorial: One Step at a Time, by John Halford. None of us can change the entire world. But we can change part of it.
Whose Hope? What Future?, by John Halford. A popular verse doesn't mean what it seems to say.
Thinking Out Loud: The Abundant Life, by Barbara Dahlgren. When Jesus promised an abundant life, what was he saying?
Portrait of a Woman and Jesus: An interview with author Barbara Quillen Egbert.
Mom, I'm So Proud of You! Mom wanted to go to Africa and adopt 12 children.
The Wake We Leave Behind, by Hilary Buck. Like a moving boat, each person leaves a wake that affects others.
Time for New Trees, by Greg Williams. Like an orchard, a church goes through various seasons as it bears fruit.
Tammy's Turn: Surviving the Wilderness Sometimes we have to go through difficult times; there is no way around.
Planting a Seed for the Gospel, by Mathew Morgan. Years ago, Mary planted a seed that is still bearing fruit for the mission of the church.
For the Love of God: "In Jesus' Name": Reflections on Why Our Prayers Matter, by Rick Shallenberger. It's not just a matter of closing with the right words.
Crossing Borders Mission Trip to Mexico December 9-11, 2011Bible Study: One at a Time, Please: A Study of 1 Corinthians 14:26-39, by Michael Morrison. Each person should use wisdom when using their gifts.
Hmm... Quotes from Christian Odyssey, October-November 2011 For every complex problem, there is a solution that is simple, neat, and wrong.