The God Revealed in Jesus Christ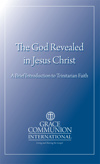 In Jesus' words and actions, we hear and see what matters most to every human being—that the Father loves us unconditionally. He sent Jesus out of his immeasurable love and his unbending commitment to human redemption. To know Jesus is to know God. This is a brief introduction to Trinitarian theology. To read it online, click here. To download a copy, click a link: PDF / ePub / mobi.
---
Statement of Beliefs 

As a Spirit-led body of believers, the church is exhorted, "Grow in the grace and knowledge of our Lord and Savior Jesus Christ" (2 Peter 3:18). The Spirit of God leads the church into all truth (John 16:13). Accordingly, this Statement of Beliefs is not a closed creed. Grace Communion International constantly renews its commitment to truth and deeper understanding and responds to God's guidance in its beliefs and practices. To read it online, click here.
---
We Believe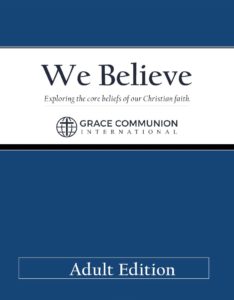 We Believe is a question-and-answer formatted tool to use in teaching the basics of the Christian faith to adults, teens and older children. Following the outline and content of the Nicene Creed, We Believe is grounded in GCI's Statement of Beliefs and expresses GCI's incarnational Trinitarian theology. We Believe is available in three editions—to read them online or to download them in PDF, click here.
---
The Christian Sabbath

The law, including the Ten Commandments, was given to Israel, for a specific period of time—the time from their encounter with God on Sinai until the coming of Jesus the Messiah. Once Jesus came, a new law came in—the law of Christ. It was a new covenant relationship, or arrangement, between God and humans, and it was not restricted to the Israelites. It was a covenant with all people. When this "new deal" came in, the "old deal" expired. To read it online, click here.
---
The Gospel Really Is Good News! 
The gospel of Jesus Christ is good news. It remains forever, good news, the best news imaginable, for absolutely everybody and everything. It is not merely good news for the few who came to know Christ before they died; it is good news for the whole of creation—even for all those who died before they ever heard of Christ. To read it online, click here.
---
Predestination: Does God Choose Your Fate?
The doctrine of predestination is sometimes referred to as "election," in the sense that God chooses people for his own purposes. To read it online, click here.
---
Standing in the Light
It is fitting and inspiring that brilliant displays of light and color are so much a part of the Advent-Christmas season. For unbelievers, such displays are little more than another advertising gimmick of modern retailers. But for us who believe the gospel, who know God and Jesus Christ whom he has sent, they can be another reminder of the glory of the One and Only Son of God, who brings the peace and rest for which the whole world aches and pines. To read it online, click here.
---
Take the Leap 
The gospel, the good news, tells us: You already belong to Christ—receive it. Enjoy it. Trust him with your life. Enjoy his peace. Open your eyes to the beauty, the love, the peace, the joy in the world that can be seen only by those who are at rest in Christ's love. Because we trust him, we are not afraid to confess our sins and unload them on his shoulders. He is on our side. To read it online, click here.
---
Getting a Grip on Repentance 
God gave us good news that he has personally paid the heavy price for all our selfish, rebellious, destructive, evil lunacy. When, by the grace of God, you come to see that and believe it, you have repented. To repent is to say: "Yes! I believe it! I trust your word! I'm leaving behind this rat-race life of mine, this pointless struggle to hold together with chewing gum and baling wire this death I thought was life. I'm ready for your rest. Help my unbelief!" To read it online, click here.
---
The Battle Over Hell
While most Christians agree that the essence of hell is separation from God, the in-house debate is over the specifics — where hell is, when it is, how hot it is and how long it is. Why? Because the Bible offers little detail. Hell is a doctrine about which there is no clear and dogmatic teaching in Scripture. The interpretation of biblical statements and the imagery they employ is beset with difficulties. To read it online, click here.
---
Sabbath, Circumcision, and Tithing: Which Laws Apply to Christians?
This book by Michael Morrison addresses a similar series of questions. To read it online, click here.
---
Transformed by Truth: The Worldwide Church of God Embraces Historic Christianity
This book by Joseph Tkach documents a defining transition in the history of Grace Communion International. To read it online, click here.
---