Encourage everyone in your church to participate!
How does the Denominational Celebration apply to everyone?
The Denominational Celebration is the perfect time for your local congregation to be encouraged, inspired, challenged, and to reflect and discern the vision to which God has called your unique congregation. If you are able to spend time together over meals, in worship, and prayer together, it is the perfect time to take your next step toward Healthy Church. There is also intentional time set aside for your church to reflect and process. Only one virtual registration is necessary for your congregation.
For more information on planning a watch party, check out our recorded webinar.
Planning Your Watch Party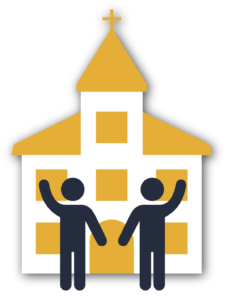 Gather a retreat planning team of 4-5 people to host your church's watch party. Calculate the time zone/schedule for your time zone.
Make plans to watch the Main Sessions as a large group, and have spaces for leadership teams to breakout into smaller groups for workshops and debriefing.
This is an opportunity to engage with emerging leaders in your congregation. Invite new members, young adults, or others who are not yet participating on a ministry team to be a part of these group discussions.
You may want to charge for your retreat to cover food costs, t-shirts, decor, etc. Decide if there is a set fee for everyone or if people can choose meals/t-shirt/etc. Establish what those costs will be and how you will have people sign up and pay your church.
Watch Party Ideas
Have your own relational building activities like happy hours, game night, etc.
Will you be giving away anything? Giveaways are fun and engaging for your congregation! Get some prizes donated or order some Denominational Celebration Swag or create your own event merch.
Create time to debrief as teams and a congregation to discern your next steps toward Healthy Church.
Choose an emcee that can keep the flow going from up front (pastor or someone else)
Do you want to participate but can't do it that weekend or your time zone is not aligning with your schedule? Schedule a timeframe that works for you! Register for the conference as if you were attending "live" so that you will automatically receive the link to the recorded sessions and may watch at your convenience.
Create sub-teams for your event:

Food: Assign leaders of your planning team to plan food/meals. Will meals be catered or prepared? What snacks and paper goods are necessary?
Tech: Who will be responsible for streaming the feed into your church building. Will the picture and audio be clear for your viewing audience?
Registration: Who will welcome participants to the event? Will someone need to process payment?