This workshop is to help worship leaders build worship teams that intentionally and collaboratively create an inspirational Sunday service.
Our goal in a church service is to point people to Christ and invite them into a worship experience. There are a number of ways to experience worship in a corporate setting. We can experience it through songs, prayers, scripture reading, and moments of reflection.
In our workshop, we will discuss worship team best practices, song selection, as well as incorporating prayer, scripture reading, and other forms of expression to create an inspirational Sunday Service. We will also focus on team development through relationship building and equipping.
As a team, our goal, is to follow Christ who leads the way. He showed us how to lead and that is to be servants. We serve our congregation by intentionally taking time to provide great music, well planned and thought out service components that usher them into greater focus on God during the worship experience. Register for an interactive workshop with lots of practical insights.
Meet your facilitators Megan Brannen & Keysha Taylor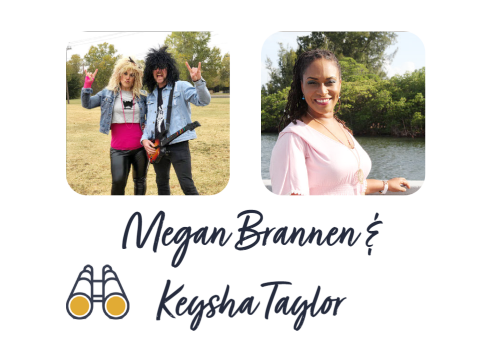 With her 20+ year experience of worship ministry, Megan Brannen now serves as the Worship Director at GC Surrey Hills – location to one of GCI's Ministry Training Centers. Megan believes that worship is more than something we do on a Sunday morning, but a posture of living in constant relationship with Jesus and what He is doing in the day-to-day activities. She believes that being an effective worship leader, you should always be a worshipper first.
Get a sneak peek into Megan's experience with building worship teams by checking out this episode of the GCPodcast.
Keysha Edwards Taylor is the daughter of the Bahamian Cultural Icon, the late Kayla Lockhart Edwards. She attained her Bachelor of Music degree in Piano Performance at the University of Miami in 1993. After graduating, she married Charles Taylor and together serve in full time pastoral and music ministry at Grace Communion International Miramar Florida. Bahamian grown and nurtured in the cultural arena, Keysha's passion is to uplift and encourage every soul through her compositions. She has exercised her musical abilities in almost every form from arranging, composing, performing, studio work and accompanying while serving wherever she goes. Keysha is now an author and entrepreneur and has released 3 albums, Father's Heart, Deep Songs From Within and just recently Piano Works. Keysha's musical style is a beautiful blend of Classical, R&B with hints of Island and Jazz rhythms.
Get a sneak peek into Keysha's experience with building worship teams by checking out this episode of the GCPodcast.