Evangelism: Ev-Angela's Sermon
---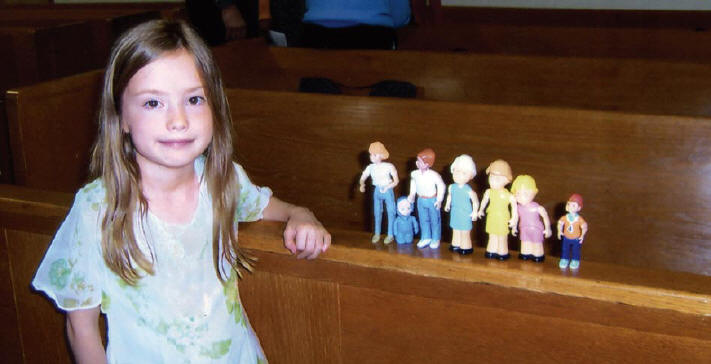 Angela showed us an amazing example of evangelism. She invited seven members of the same family to church last month, and they all seemed to enjoy themselves. While most Christians would rather take up bullfighting than evangelize, six-year-old Angela made it look easy.
"Living and sharing the gospel" is the motto of our denomination, and I have been encouraging my congregation to commit to this great commission. That's what Christians are supposed to do, isn't it?
Since this thing called "evangelism" scares the life out of most Christians, Angela's example paints a beautifully simple portrait of what can be an overc-omplicated concept.
Earlier in the year, I asked our local members to seek out one person per year with whom they could cultivate a relationship and learn his or her life story. I asked if they would also share their own life journey and maybe even invite one person to join us for worship. These simple steps seemed to be at the heart of living out the meaning of our church motto by sharing genuine love and hope through authentic relationships.
Many evangelicals concentrate on "bringing people to Christ," but our focus has been more on "bringing Christ to the people" by extending to them his love as we get to know them. To that end, our little "Ev-Angela" blessed us with an example of pure and undefiled commission work.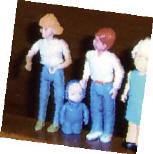 During a discipleship class, we saw in high definition our Lord's message of Matthew 18:1-4. Jesus said, "Unless we change and become like little children, we will never enter the kingdom of heaven." Wow, what a way to see what the kingdom is like. As I led the discipleship class, I noticed Mr. and Mrs. Toy and their five children in the front pew. They had come for the third visit at Angela's invitation. They sat impeccably dressed and seemed to be soaking in every word.
I noticed that during the hymn singing they stood up, during the prayer time and sermon they sat, and following the service the Toys enjoyed being surrounded in fellowship as Angela introduced us to each family member.
It seems little Angela had invited them to join her family on the front row and had dutifully shared with them what to do next as the service unfolded. The beauty of her actions mesmerized me. Questions flooded my mind. Has this six-year-old been listening all these weeks? Has she understood what I have been preaching about?
The answer is probably more revealing than I care to acknowledge. Frankly, I don't think Angela ever considered evangelism to be a problem. These were the people she played with and talked to on a regular basis. These are the people she spends her free time with. Sure, they were a "toy" family, but does it make a difference to her? Angela wanted to share her worship experience with friends.
It was so easy, so natural, for Angela to invite the Toys to church and patiently walk them through what to do. Could this thing that often breaks adults out into a cold sweat really feel easy and natural? If meeting the Toys is an indication, I have to say yes!
George Barna reports that 99 percent of all evangelical Christians have never shared the gospel with an unbeliever. Could it be that many believers have been evangelizing all along but just didn't know that is what it was officially called? When we take the time to genuinely listen to another's story, share our own life story or seek to leave behind a piece of spiritual fruit for a hungry acquaintance, aren't we evangelizing? If your heart is to share what new life, true freedom and transformed thinking feels like, then Christ be praised, you have shared the gospel!
So, thank you Ev-Angela for the sermon you gave our congregation. You set a useful and inspiring example for everyone in speech, in life, in love, in faith and purity. May we all approach the good news with such simplicity and grace.
Author: Jeff Broadnax
Help us provide more content like this by giving today
Donate