The Philippines is known for being the only Christian country in Asia. Of the 103 million in population, 81% are Catholics, about 14 % evangelical Christians and protestants, and about 5 % are Muslims. Most of the Muslim population live in some provinces in Mindanao. The country is an archipelago that is composed of 7,000 islands but the 3 major islands are Luzon in the north, Visayas in the middle, and Mindanao in the south.
The Philippines has about 8 major dialects but Filipino is the national language spoken and understood by most people in the country. English is like its second language since most Filipino can speak English and many understand it.  One out of 10 Filipinos live and work overseas as contract workers, and some have become permanent residents or immigrants in those countries. This Filipino diaspora is mainly a function of a desire to find better opportunities to support their families and because they are educated, have marketable trade skills, and generally can communicate in English and have been recognized to be friendly, diligent in their work, and can easily relate with other people. These qualities give them a competitive advantage when it comes to being hired.
At present Grace Communion International Philippines has about 6000 members spread in about 80 churches and 30 outreach bible study areas in the major cities and towns in the country.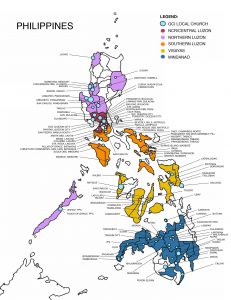 GCI Philippines presently serves as the ministry, missions and training hub of the region.  As a national Church of GCI, it aligns itself with the overall vision of the denomination towards all kinds of churches for all kinds of people in all kinds of places. In its commitment to participate in the life and work of the Triune God, it continues to pursue the Great Commission and living out the good news of Jesus Christ in the lives of members, and through them wherever they go.
Most of the churches are small, and spread out, and they are served by lay ministry teams. Out of the 80 churches, only two churches have full time pastors. There are also about a dozen missionary partners who serve as tent makers working as students, English teachers and contract workers in different countries around the globe. Some of them have found home in the other GCI churches worldwide.